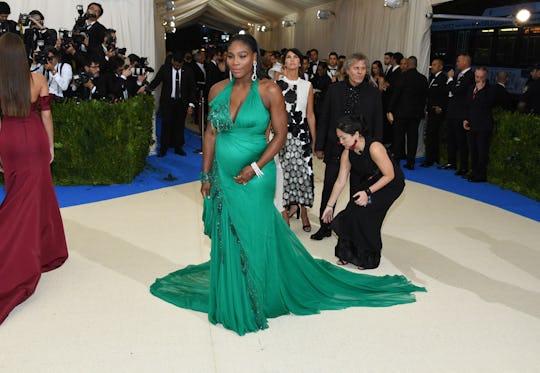 Dia Dipasupil/Getty Images Entertainment/Getty Images
This Store's Employees Allegedly Called Serena Williams "Disgusting"
Unfortunately, racism is alive and well in the United States of America. While perhaps coastal, liberal cities might be a bit more progressive, there are still plenty of Americans who think, and say, horrible, discriminatory things. Just open Facebook or Twitter and you'll likely find a new viral video of someone going on a racist rant in a public place. Really, there are way too many people out there who think they're better than anyone who looks, believes, or speaks differently than they do. And now, as a luxury shoe store allegedly called Serena Williams "disgusting," the internet has yet another example of (possible) blatant racism, which is completely ridiculous.
The luxury shoe company Gianvito Rossi was just served a lawsuit from a former employee, who alleges that the store refused to give Williams the same discount they gave white celebrities, and even called her "disgusting." The former employee, Whitney Wilburn, also claims that she was the only black employee at the company for the 18 months that she worked there. Between the store's troubling attitude towards Williams, and the rest of Wilburn's allegations — including her unwarranted termination — it seems that this racial discrimination lawsuit could get pretty intense, and that racism doesn't just exist in the deep south.
Romper has reached out to Gianvito Rossi and a representative for Serena Williams for comments and is awaiting their response.
Wilburn's lawsuit not only alleges that her boss, Grace Mazzilli, was rude to her while she worked there, but that the store had a stunningly abrasive and racist response to Williams. As the suit states,
For instance, when the world famous athlete Serena Williams, via her staff, asked for a discount on her extensive purchases, Gianvito managers responded with racially disparaging comments about Ms. Williams which made it clear that the company did not want African American women to wear its shoes.
Wilburn also claims that the store managers "referred to Ms. Williams as 'disgusting' and refused to offer any discount," until an employee at Vogue reached out on Williams' behalf, but still "offered only a fraction of the discount that white celebrities typically receive."
As of yet, Williams herself hasn't responded to the claims that Wilburn's suit makes, but according to BET, Gianvito Rossi responded to reports of the lawsuit by saying,
Gianvito Rossi further regrets that this former employee chose to conflate her own claims with allegations about our relationship with Ms. Serena Williams who we have the honor of having as our client. Gianvito Rossi has the pleasure of having relationships with international celebrities without any distinction.
But while the lawsuit plays out, it's still ultimately disheartening to see such extreme claims of racism, no matter where they come from.