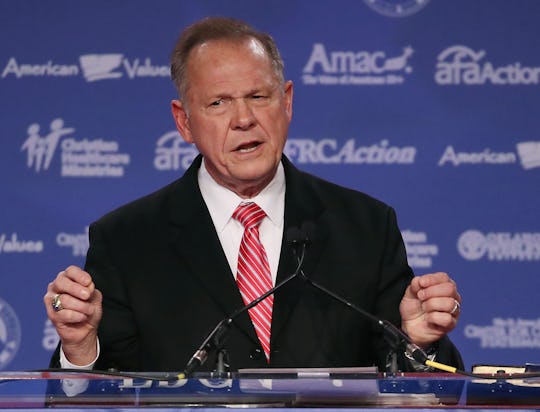 Mark Wilson/Getty Images News/Getty Images
A Man Running For Senate In Alabama Has Been Accused Of Groping A Minor
Since the viral #MeToo trend, women and men have felt more supported in publicly coming out with their stories of sexual assault and harassment — even against powerful public figures And, unfortunately, a lot of these allegations have centered around politicians and those who claim to support so-called "family values." The most recent politician to face sexual assault allegations is Roy Moore, a man running for senate in Alabama and who has been accused of groping a minor, according to The Washington Post. Moore did not immediately respond to Romper's request for comment.
On Thursday, news broke that Moore, the Alabama Senate GOP nominee, "initiated a sexual encounter with a 14-year-old girl when Moore was 32," according to Politico. Moore's accuser, Leigh Corfman, said she and her mother first met Moore outside of a courthouse in Etowah County, Alabama. At the time, Corfman said Moore offered to wait with Corfman while her mother attended to a custody hearing, and during their time together, Corfman claims Moore asked for Corfman's number, and she presumably gave it to him.
Corfman claims Moore called her and began taking her on outings (the details are murky on what exactly these outings were or how they were set up given their age difference), according to The Hill, and Corfman claims their meetings quickly became sexual in nature. Corfman didn't elaborate on what her mom, Nancy Wells, thought of these outings, but says her mom thought Moore was "nice" for watching Corfman while she handled business at the courthouse, according to The Washington Post. Corfman alleges Moore kissed her during their first encounter, and, during the second visit, Corfman alleges Moore touched her "over her bra and underpants and put her hand over his underwear" while she was undressed, according to The NY Post. Corfman claims Moore was not wearing a shirt or pants at the time.
Corfman, who is now 53 years old, said of the second encounter, according to The Washington Post:
I wanted it over with — I wanted out. Please just get this over with. Whatever this is, just get it over.
Following the incidents, Corfman said she considered speaking out, but she was worried about the effect it would have on her two children. Additionally, Corfman said she wasn't sure if people would believe her given her rocky relationship history and her troubling financial issues, according to The New York Post. It's worth nothing that Corfman's fears are similar to those of other sexual assault survivors — many people don't come forward because they worry about being judged or believed, for example.
In addition to Corfman's claims, The Washington Post reported that Moore allegedly pursued three other women between the ages of 16 and 18 when he was in his 30s. Moore's perusal of these women, however, did not lead to sexual encounters.
In response to the allegations, Moore said in a statement, according to The Washington Examiner:
This garbage is the very definition of fake news and intentional defamation.
Is it just me, or does anyone else feel like they're going to lose it if they hear "fake news" one more time?
As for members of the GOP, Senate Majority Leader Mitch McConnell said that Moore must step down as a candidate if the allegations are true, according to CBS News. Other republicans, including Arizona Sen. John McCain, also called for Moore to step aside:
If you've been following Alabama's special election for U.S. Senate, you probably know Moore is as conservative as it gets. Not only does Moore have the backing of Breitbart's Editor, Steve Bannon (that should tell you a lot), but he also has been accused of bigotry multiple times. Moore once reportedly said that a practicing Muslim should not be allowed to serve in Congress, according to The Hill, and in 2005, Moore said that "homosexual conduct should be illegal," according to CNN. Yep.
And for those of you who are fans of the Duggars, you might be interested to know that multiple members of the family have expressed support for Moore on numerous occasions. It will be interesting to see if Moore's supporters, especially those who espouse ultra-conservative views, will abandon him following these allegations.
If Moore does step down, his name will remain on the ballot, although no votes for him will be certified, according to NBC News. This might be good news for his opponent, Democratic nominee Doug Jones. As of Wednesday, Moore held a double-digit lead over Jones, according to AL.
Many are calling for Moore to drop out regardless of whether the allegations against him are true in a court of law.