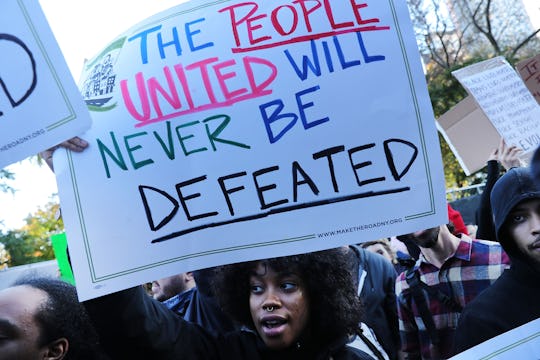 Spencer Platt/Getty Images News/Getty Images
A Map Of Women's Marches Around The World
The Women's March on Washington, planned for Saturday, Jan. 21, is expected to be the largest inauguration protest in United States history. While the main event itself is expected to draw more than 200,000, a New York Times map of women's marches around the world shows that you don't have to go to Washington to show your support for American women, whose rights are increasingly under attack, and expected to worsen dramatically under the supervision of a man who has joked about grabbing women "by the p*ssy" without their consent, which is sexual assault. (Trump has defended his comments by saying they were "locker room talk." His representatives did not respond to Romper's request for comment.)
The official Women's March website currently lists more than 600 sister marches taking place in every U.S. state, and every continent, save for Antarctica. The participants in the sister marches are expected to number 1.3 million. For U.S. women disheartened by the fact that so many of their countrymen voted against their interests, the show of solidarity by friends around the globe offers hope. In addition to showing support for Americans, many global marches are also planned out of concern for their own countries. "We will march on January 21 in solidarity with the Women's March on Washington, because defending women's rights in the United States is defending them in France and the world over," the Paris women's march website states. "In France, there is real danger coming from several presidential candidates who threaten women's rights."
"We will march PEACEFULLY in solidarity with the marches in DC at the same time as it is happening," announced the Rio de Janeiro sister march page. "Everyone is welcome: you don't need to be a woman or American!" The sentiments behind the global marches are touching. "My friends and I have want to help the American women on their march against Donald Trump," wrote Aaminah Hakim, organizer of the Riyadh, Saudi Arabia sister march. "Unfortunately, we do not live in America; making us not able to match alongside the American women. But we can still march in solidarity with you! As of now, only a total of four of us (this including me) will march, but we hope to go as high as 1,000." More than 800 people have registered for the Riyadh march thus far.
Nearly 104 years ago, the Women's Suffrage Parade saw 5,000 women marching on Washington the day before the inauguration of President-elect Woodrow Wilson. This time around, the movement is stronger, larger, and supported by allies around the globe. The fight won't be over in a day, but with the whole world (except for Russia) behind them, American women will prevail.