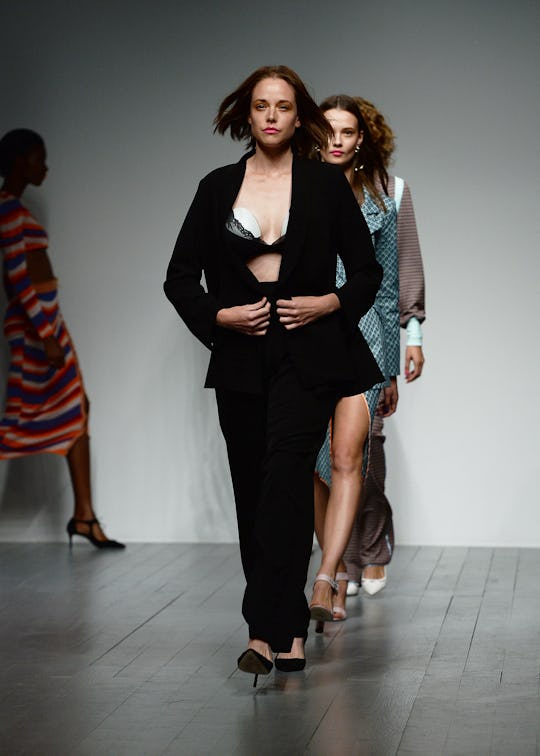 Eamonn M. McCormack/Getty Images Entertainment/Getty Images
We're Obsessed With This Model Rocking A Breast Pump On The Runway
Though it may be glamorous, modelling is definitely also a seriously high-pressure career. After all, even the most beautiful, successful models are forever competing against those who are younger, taller, thinner, or have more followers on Instagram. And if you want to have a baby? Returning to the runway as a mom isn't always a given. But this year, it seems designers are more open to the idea of motherhood in modelling, and it's made for some pretty bold statements. Only a week after heavily-pregnant model Slick Woods walked in Rihanna's Savage x Fenty show in New York, a model walked the runway wearing a breast pump at London Fashion Week, and it was a total boss move.
Model Valeria Garcia walked in Marta Jakubowski Spring 2019 in London Friday, according to Glamour, and under her black suit jacket, her black lace bra was visible, along with what looked like white inserts of some kind. But upon further investigation, it turns out that Garcia — who gave birth to her second child in June — was actually wearing the Elvie breast pump, an item that pretty much sounds like a futuristic dream come true for anyone who's ever experienced the "joy" of using a breast pump for any length of time.
Instead of the rather complicated set up of most breast pumps, where you're either stuck manually expressing one boob at a time, or attached to a whirring electric machine reminiscent of a dairy farm milking unit, the Elvie breast pump is meant to just sit in your bra, allowing for hands-free — and completely silent — pumping. There are also no wires, and you can control it with your smartphone.
Impressed? I definitely am, though unfortunately, the Elvie isn't yet available for purchase. But showing off the unit during London Fashion Week was a pretty brilliant move: if you weren't entirely already sold on the idea of shelling out for a silent, hands-free breast pump you can wear in your bra, then seeing it in action — on the runway, no less — probably sealed the deal.
Neither Garcia nor Jakubowski have offered any comment about the decision to include the Elvie pump in the show, but it definitely seems like pregnancy and breastfeeding are having a moment in the model world right now. For one, during the Fenty show, Woods wasn't just pregnant, she was pretty much naked — and she also happened to be in labor (her son was born later that day).
Then, there was model Mara Martin, who made headlines in July for walking the runway for Sports Illustrated while breastfeeding her 5-month-old daughter:
And a week ago, model Lily Aldridge also left her mark on New York Fashion Week by taking the runway while five months pregnant. In an Instagram post, she gushed about the experience, and wrote, "Nothing but Empowerment at Brandon Maxwell."
Of course, it still seems a bit of a stretch to consider that anything having to do with pumping breastmilk could even remotely be considered a fashion statement, and honestly, I'm sure even a silent, hands-free pump still has its downsides (you are still being milked, after all). But it is pretty amazing to see things like breastfeeding and pumping (things we often are expected to completely in private, and at times, infuriatingly, in the bathroom of all places) gaining more visibility.
The truth, after all, is that whether or not they are models, women who have children are also people. And while motherhood may change certain areas of our lives forever, there shouldn't be any reason why we have to let go of everything. So whether that means pumping on the catwalk, or walking the runway literally while you're in labor, it's encouraging to see that these women haven't had to put their lives entirely on hold to be moms.