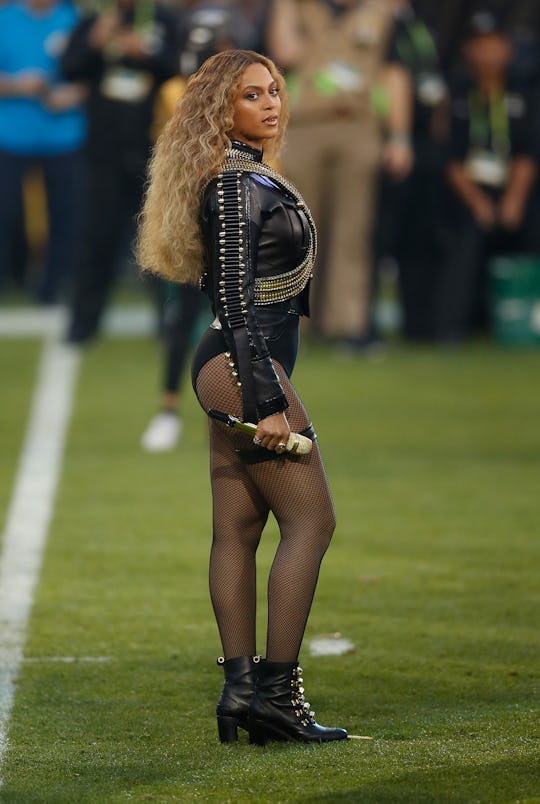 Ezra Shaw/Getty Images Sport/Getty Images
A New Beyonce Album & Film Will Be Released In April & People Are Freaking Out About It
First there was "Formation " — the surprise powerful single that Beyoncé dropped the day before her amazing Super Bowl 50 Half Time Show performance. Now, according to The BeyHive — Beyoncé's super loyal and reliably accurate fan club that snags the inside scoop on all things Queen Bey — Paper Magazine reported Beyoncé will release a new album and mini film this April. That's right, as in like — next month, aka, not soon enough. Beyoncé has been known to surprise fans before, like the 2013 release of her self-titled album with nary an announcement beforehand, appearing like a gift from the fairies on iTunes.
The BeyHive has previously tweeted that Beyoncé's next tour will feature her newest album: she announced her Formation World Tour during Super Bowl 50, with the first concert scheduled in Miami, Florida, on April 27. If you were hoping to get tickets to see Beyoncé, good luck — most North American cities on the Formation World Tour are sold out. Considering her world tour doesn't start until nearly the end of April, fans can only hope that means Beyoncé will drop the album as soon as she can in April — well, except for April Fool's Day... That would just be mean.
Commence obligatory celebratory dancing:
This will be Beyoncé's sixth and final album with Sony's Columbia Records. But her April release album may not be her last in 2016, as rumors have been circulating since 2014 that Beyoncé plans to release an album with husband and rapper, Jay Z. And, just when you thought it couldn't get anymore amazing, that Beyoncé and Jay Z album could be released this year, too.
The album title and track listing has not yet been revealed, although "Formation" will definitely have a spot on the album. Still, The BeyHive has been teasing what information it can, and has revealed that her Formation World Tour is going to be an event that's not to be missed:
What the tweet doesn't specify is whether those "aggressively political" and "controversial" parts of her show will include tracks from her new album.
Fans have kind of been losing their minds on Twitter since The BeyHive scoop broke on Sunday:
If "Formation" is any indication of how much Queen Bey intends to slay it on her sixth studio album, fans are going to be in for one amazing musical and political ride — and I, for one, can't wait to ride along.