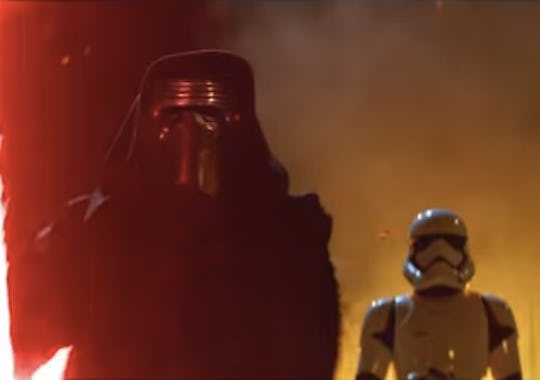 Star Wars/YouTube
A New 'Force Awakens' Teaser Is Out & An Old-Time Favorite Is Making An Appearance — Brace Yourself
Holy crap, guys. You may want to sit down, because there is new Star Wars: The Force Awakens TV spot (yes, again!) and it needs to be seen. Sure, there are only a few new shots (like seriously, it's only three or five seconds worth) but with the release just over a month away, I'll treasure each and every millisecond I can get. And what makes this sneak peek so amazing? Well, before I tell you I just wanted to check: You are you sitting, aren't you? Good, because Han Solo gets into the action, which makes it even more worth a watch.
While the Japanese Star Wars trailer blew me away, this teaser leaves me absolutely giddy. Not only do we get to see Han wielding a blaster, we get to see him pass the proverbial torch onto Rey, with the words of advice "You might need this." (Eeep!)
So what does this mean? The Internet is abuzz with rumors, the biggest being that Rey is Solo's daughter — and this scene serves as proof of that connection. And while it is possible, I'm not so sure myself (at least not yet). Plus, I'm the kind of gal who likes to wait until Christmas to open her presents, so I'm trying not to look into it too deeply.
But that isn't stopping those on Twitter from talking about it:
Guess we'll have to wait until December 18 to find out, when the film opens in theaters worldwide. See you then!
Image: Star Wars/YouTube