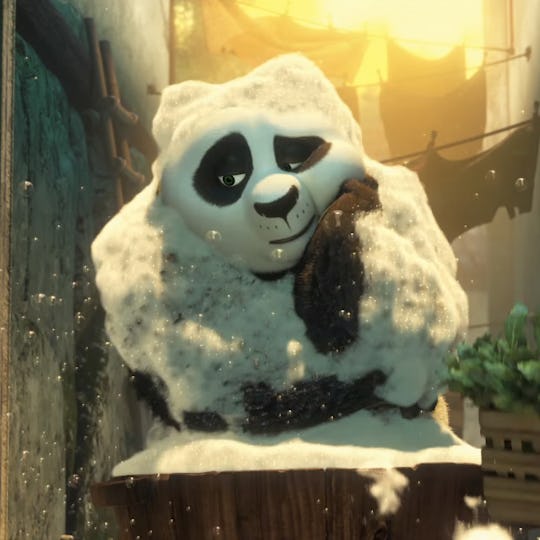 A New 'Kung Fu Panda' Movie Is Coming & It Looks Surprisingly Funny (No, Seriously) — VIDEO
Don't worry, Star Wars won't be the only thing to watch this winter. The latest trailer for the Kung Fu Panda 3 movie just came out and it's freaking hilarious. If you haven't been keeping up with the Kung Fu Panda saga, there's a third installment slated to hit theaters January 2016. Unlike most animated serials, the second Kung Fu Panda did not disappoint. In fact, call me crazy, but it might've even been funnier than the first one. Things are looking good for the next installment, too. Let's choose to believe, guys.
The teaser was full of trademark Kung Fu Panda humor (good for kids and adults — score!) that's a mix of slapstick, wordplay, and just plain great writing. It looks like this film has most of the same characters and the star-studded cast that voices them: Po (Jack Black), Tigress (Angelina Jolie), Mantis (Seth Rogen), and Crane (David Cross), aka, the best part of the whole cast. The primary difference among the three films is that each features a different villain — and installment three's villain, Kai, appears not to be trifled with. Kai looks to have some sort of supernatural evil force, and he's voiced by none other than Academy Award winner J.K. Simmons. Talk about scary.
The film's co-director Jennifer Yuh Nelson spoke with Entertainment Weekly earlier this year about this film's central conflict, explaining that Kai is "a villain that Po is completely ill-equipped to face." In the EW interview, Nelson goes on to explain some of their thinking behind the plot of the upcoming film: "You can't go brawler because Tai Lung was brawler. You can't go smarter because Shen was smarter. Where can you go? You have to go supernatural, bigger, and even more intimidating."
It seems from the trailer that Po won't be alone in fighting this villain. As the subtitle — From Master to Teacher — suggests, Po will be taking his kung-fu skills to the next level as he teaches a lovable but hapless village of pandas to fight alongside him. And it's not all comedy: Longtime outsider Po finds a village full of pandas that look just like him? That's a tearjerker, people. 
Images: DreamworksTV/YouTube; Giphy