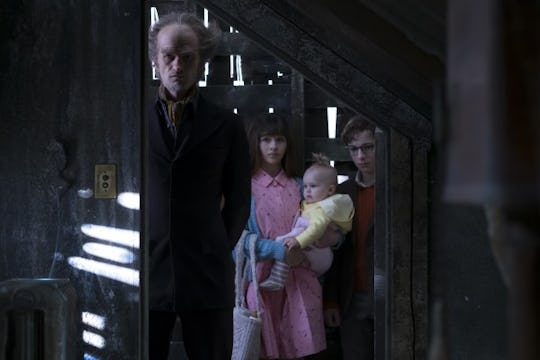 Netflix
'A Series Of Unfortunate Events' Trailer Is Here, & Neil Patrick Harris' Olaf Is Revealed
Some adaptations just don't hit like studios think they will. That was, unfortunately (ha), the case with Paramount's A Series of Unfortunate Events movie, which was originally meant to be the start of a film franchise but wound up fizzling out for unclear reasons. Luckily, the amazing and beloved YA book series got a second shot at adaptation-life with an upcoming Netflix show. Now, the first official A Series of Unfortunate Events trailer is here, and Neil Patrick Harris' Olaf is just as terrifying as we expected.
The misfortune-filled 13-part book series, about a trio of wealthy orphans and the villainous uncle who adopts them intending to steal their fortune, is easily one of the most popular children's series of all time. The original movie adaptation, released in 2004, covered the events of the first three books – but that still left ten books' worth of events to be mined. Paramount made their intention to release a TV version of the story known back in 2014, and now, the new adaptation is finally seeing the light of day.
The show's teaser, "Meet Count Olaf," was released earlier today. It focuses on the Baudelaire orphans' first meeting with their murderous relative at his spooky and dilapidated house. Through voiceovers, we hear all about how terrible and dangerous Olaf is from the kids and from various other characters. NPH's super creepy Olaf is a perfect fit for the dismal, barren, grey tone of the show.
Fans were a little shaky about whether NPH could live up to Jim Carrey's pretty flawless rendition of the evil Count in the original film, which set the standard for any and all future Olafs. But luckily, NPH's Olaf was visually just as impressive as Carrey's, with his iconic wild gray hair and eyebrows, pointed beard, and mottled skin. The series' special effects and make-up teams have done an undeniably incredible job of transforming NPH into a decrepit old man.
Though this is the first trailer that actually introduces the principal characters Count Olaf and Violet, Klaus, and Sunny Baudelaire, it's technically the series second actual teaser. On October 4, the streaming channel released a teaser in which Patrick Warburton, playing the role of nosy narrator Lemony Snicket himself, strode around on the empty A Series of Unfortunate Events set, gravely warning viewers against watching the melancholia-inducing show.
The Netflix series' first season is set to release all eight of its first batch of episodes on January 13.