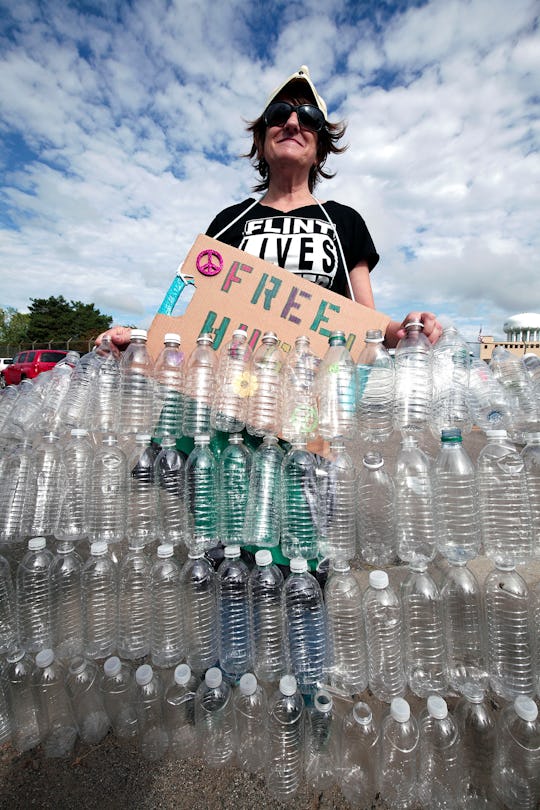 Bill Pugliano/Getty Images News/Getty Images
A State Of Emergency Was Declared In Flint A Year Ago, But The Water Is Still Unsafe
For the majority of Americans who don't have to worry about whether the water coming out of their taps will make them sick, the idea that residents of Flint, Michigan, have largely been without safe drinking water since April 2014 is hard to even comprehend. It has taken an agonizingly long time for progress to be made, and it's now been a whole year since a state of emergency was declared in Flint by the city's mayor in response to the water crisis, and almost a year since President Obama followed suit in January. But the water is still unsafe to drink unfiltered, and, according to ABC News, Republicans in Congress have recently closed a year-long investigation into the situation, after determining that "a series of failures at all levels of government" led to the contamination.
The good news, at least, is that Congress finally agreed a week ago to allocate $170 million to Flint, and other communities with lead-tainted water. But the ongoing water crisis has left most Flint residents skeptical that anything will actually improve, and even though officials have said that the water in Flint has become safer, according to WUNC, residents are still opting to use bottled water for pretty much everything.
For over a year, residents in Flint were complaining about their water, according to a 2015 article from The Washington Post. Although the city had always received its water from Lake Huron via the Detroit Water and Sewerage Department, in 2014, it joined three other counties in joining the Karegnondi Water Authority, and began receiving water from the Flint River instead at a savings of $5 million and $7 million a year, according to The Detroit Free Press. But treating the river water adequately was difficult, and when that water started running through the the city's old copper and lead pipes, that lead ended up leeching into residents' drinking water.
Although officials at first reassured residents that the water was safe, a study released by Flint's Hurley Medical Center in Sept. 2015 found that, after the city switched from Lake Huron water to Flint River water, the number of children with above-average levels of lead in their blood almost doubled, according to The Washington Post. And that is very scary: according to the Centers for Disease Control, there is no known safe blood lead level, and exposure to lead can cause a variety of growth and developmental issues, including damage to the brain and nervous system, hearing and speech problems, and has been linked to learning and behavior problems like ADHD, and juvenile delinquency. In pregnant women, lead is associated with reduced fetal growth, according to CNN, and anyone, regardless of age, is at risk of complications involving the heart, kidneys, and the nervous system as a result of lead exposure.
After ongoing public outcry, and the resulting states of emergencies being declared, the state of Michigan finally began providing bottled water and water filters meant to protect residents, and the city was switched back to the Detroit water system in Oct. 2015, according to The Washington Post. But, according to the City of Flint's website, "lead levels remain well above the federal action level of 15 parts per billion in many homes," and residents are still being advised to use water filters and bottled water. That's because, according to Tri States Public Radio, the problem likely won't go away until the lead pipes are actually replaced — something that will take a lot of time and a lot of money. Only 600 pipes were replaced this year (there are an estimated 30,000 pipes in total), and while the $170 million in Congress-approved funding will certainly help, it could take about $100 million more to actually get the job done.
In addition to the fact that Flint residents are in their third year of living with unsafe water and have been exposed to levels of lead that could have devastating health consequences, critics have also argued that the state hasn't done nearly enough to help the roughly 100,000 people who live there. According to The Telegraph, leaked emails emerged earlier this year showing that, while state officials were telling residents that the water was safe to drink, coolers containing purified water were being imported for use in government offices. And although a Nov. 10 court ruling determined that the state of Michigan would be required to deliver bottled water to Flint residents' homes instead of continuing to provide it at various distribution sites throughout the city, the state filed an appeal, arguing that it was unnecessary and too expensive, according to Reuters.
The appeals court upheld the original ruling, but allowed that homes with properly-installed water filters — or anyone who opts out from home delivery — would not also need water delivered to their door. According to The Telegraph, 6th U.S. Circuit Court of Appeals judges Damon Keith and Bernice Donald determined that requiring the state to provide bottled water is necessary to ensure that all residents have access to clean water, not just those who are able to go out and get it.
What happens next for Flint? It's hard to say for sure. According to Mic, Democrats in Congress are calling for the inquiry to be continued, since it didn't actually determine anything that wasn't already previously known. According to M Live, President-elect Donald Trump visited Flint and toured the water plant ahead of the Nov. 8 election, but he hasn't said much about what he intends to do to help the city, short of claiming that the water crisis wouldn't have occurred if he'd been in control. The numerous government agencies involved in the Flint crisis will soon be under his control though — the Environmental Protection Agency, the Department of Health and Human Services, the Federal Emergency Management Agency, to name a few — and the direction he takes them in will inevitably have a huge effect on the residents of Flint, who are still in great need of federal assistance.
It's clear at this point that there is a lot of room for improvement of the situation in Flint as Trump transitions into office. And hopefully, for all of the residents in need, he will be able to deliver.