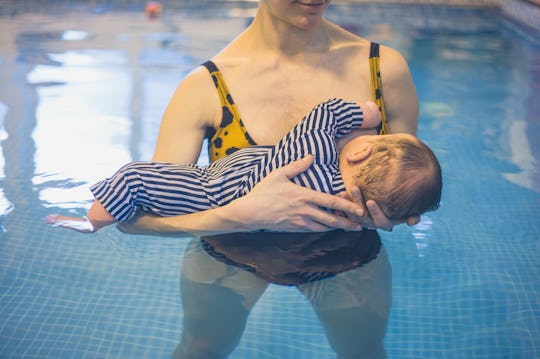 Fotolia
A Pool Called The Police On This Mom For Breastfeeding, Now She's Fighting Back
In recent years, breastfeeding in public has become a hot-button issue. While most moms (and level-headed humans) see breastfeeding as simply feeding a baby when they are hungry, some critics see the completely natural action as inappropriate for a public space. Many mothers who have been kicked out of places for breastfeeding have valiantly fought back, and Stephanie Ellingson-Buchanan and her sister-in-law Mary Davis of Mora, Minnesota, are no exception. Last week, a local aquatic center called the police on the breastfeeding moms for nursing their babies at the pool — and you better believe that neither one of them are taking it quietly.
"Mora Aquatic Center lost my business forever, today. Today they called the police on me and my sister-in-law for nursing our babies in public," Ellingson-Buchanan, who has a 3-month-old son, wrote on Facebook on Wednesday. "I wasn't flashing them around, nobody saw any nipple, there were other moms there nursing their babies, and LOTS of other women showing more skin than me but because one woman saw me and complained, this establishment called the police."
Mora Aquatic Center did not immediately respond to Romper's request for comment.
As Ellingson-Buchanan went on to point out, the aquatic center had no grounds for calling the police on her and Davis. In fact, there is a law protecting women who breastfeed in public in Minnesota, where she lives, according to the Huffington Post.
Ellingson-Buchanan continued her post, explaining that employees told her she could either finish feeding her baby in the locker room or leave:
Minnesota state law protects mothers doing their natural God given right to feed their babies therefore I could not get charged with anything but the Mora pool said that if I was not going to feed my baby in the locker room, that as a private business they reserve the right to ask me to leave.
She then explained that if adults are not expected to eat in the bathroom, babies should not be expected to eat in the bathroom. She finished her post:
I am in complete awe over how I as a mother was treated here, I don't expect any grown adult to go eat in the locker room and I'm not going to remove the other children I have with me to go sit in the locker room also while I feed my baby, it's absolutely disgusting and maddening that this is how this establishment treats moms!!! I hope they understand the backlash that companies receive over stuff like this.
It's clear that the pool had no reasonable grounds for kicking Ellingson-Buchanan out of the pool, let alone calling the police on her. Not to mention, the staff were not the only people to criticize Ellingson-Buchanan for breastfeeding at the aquatic center. "A patron came up, a lady, at the pool, and told me that I needed to cover up because her sons were swimming," she told local news station WCCO-TV.
Between Ellingson-Buchanan and Davis, they had six kids to look after at the pool that day. "The reason I didn't get out of the pool to breastfeed is my kids," Davis told WCCO-TV. "I've got to watch my kids."
While Ellingson-Buchanan wrote on Facebook that the Mora Aquatic Center has lost her business forever, it seems like she and Davis have plans to return at least one more time. WCCO-TV reported that the women are planning a "nurse-in" at the pool to show support for mothers having the right to nurse in public.
It's awesome that Ellingson-Buchanan and Davis turned a horrible situation into an opportunity to make a difference in their community and fight the stigma against public breastfeeding. Moms really are superheroes!