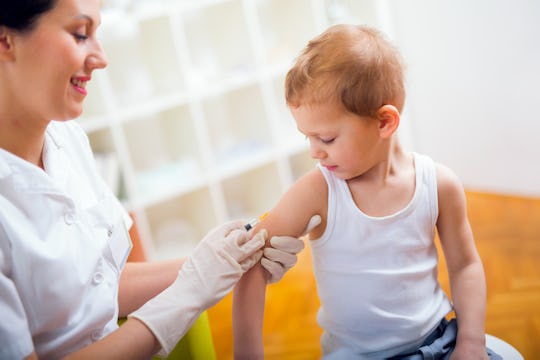 Fotolia
A Texas Nurse Was Fired For Sharing Patient Details An Anti-Vaxx Facebook Page
Despite being a completely preventable disease, measles cases continue to occur across the country — and throughout the world — largely due to insufficient immunization rates. It certainly doesn't help that that internet is full of anti-vaccination websites and social media groups promoting the idea that vaccinating a child is somehow more dangerous than risking the disease itself, and it's meant that sometimes, even medical professionals who should know better can subscribe to the anti-vaxx view. On Tuesday, a Texas nurse was fired after posting about her patient on an anti-vaxx Facebook page, according to ABC News, and though the page itself has since been deleted, her message understandably raised some major red flags among concerned parents after it appeared.
The unidentified nurse allegedly shared the message on a Facebook page called "Proud Parents of Unvaccinated Children — Texas," and in it, she described seeing a case of the measles "for the first time in [her] career" earlier that week. She wrote, "I think it's easy for us nonvaxxers to make assumptions, but most of us have never and will never see one of theses diseases," and added, "honestly, it was rough. The kid was super sick. Sick enough to be admitted to the ICU and he looked miserable."
Commenting on the child's case on social media in general already raises major privacy concerns — in addition to mentioning the case, she allegedly claimed that the child had recently traveled somewhere "where measles is very common," and suggested that that could have been where he contracted it. Yet even despite witnessing the reality of what it actually looks like to contract a vaccine-preventable disease, the nurse said she still believed eschewing vaccines was the way to go. She wrote,
By no means have I changed my vax stance, and I never will. But I just wanted to share my experience and how much worse it was than I expected.
In her Facebook profile, the nurse indicated that she was a pediatric ICU/ER nurse at Texas Children's Hospital in Houston, according to The Houston Chronicle, and had also allegedly indicated that the patient was a boy between the ages of 1 and 3 years old, who was "currently receiving treatment at the hospital's west campus." Though the hospital did not immediately return Romper's request for comment, in a statement sent the The Houston Chronicle, officials confirmed that the nurse was no longer working at the hospital as a result of posting protected health information:
We were made aware that one of our nurses posted protected health information regarding a patient on social media. We take these matters very seriously as the privacy and well-being of our patients is always a top priority. After an internal investigation, this individual is no longer with the organization.
The measles case marks the first to occur in Houston since 2013, according to The Chronicle, but the highly-contagious nature of the disease — which was technically declared eliminated in the United States in 2000, according to Health.com — is certainly worrisome, especially since cases are still being confirmed elsewhere in the country. According to the Centers for Disease Control, 124 measles cases have occurred in 22 states and the District of Columbia in 2018 so far, while the highest number of cases in recent years occurred in 2014, when 667 cases were confirmed in 27 states.
The fact that the measles continues to pop up in the United States is precisely why vaccination is so important though: according to the CDC, measles is still common in many parts of the world, and when unvaccinated Americans contract the disease abroad and bring it back into the country, it can easily spread. In fact, the CDC noted that 90 percent of individuals close to an infected person will also contract the disease if they don't already have immunity. And since infants can't actually be vaccinated (the first dose of the measles, mumps, and rubella vaccine — aka MMR — is given at 12 months of age), they are at a particularly high risk.
More than just causing a pesky rash though, it's important to note that measles can also be deadly: in Europe, where the World Health Organization (WHO) recently confirmed that there have already been 41,000 measles cases in 2018, 37 people have died from the disease. Over half of all European measles cases have occurred in Ukraine (though more than 1,000 cases each have also occurred in France, Georgia, Greece, Italy, and the Russian Federation), and the disease has been most deadly in Serbia, where 14 deaths have been reported.
The problem? Although a 95 percent immunization rate in a community will prevent an outbreak thanks to herd immunity, the WHO said that vaccination rates in some areas in Europe sit at "below 70 percent" — not nearly enough to offer sufficient protection. In Houston, at least, the MMR vaccination rate for children under 2 is a much more reassuring 94.5 percent, according to The Houston Chronicle, but in the state as a whole, the rate is much lower, at 89.8 percent.
As much as the Texas nurse's Facebook post was concerning, there is still one important takeaway: measles is definitely not something to take lightly. But since it's also preventable, the case can at least hopefully serve as a valuable reminder that vaccinating children fully and on-time is the best way that parents will be able to keep their kids safe.