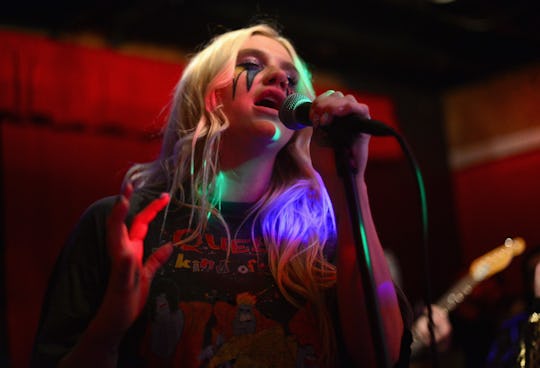 Katie Stratton/Getty Images Entertainment/Getty Images
A Timeline Of Kesha's Court Case Against Dr. Luke
If you're anything like me — or the many who aren't more closely tied to the music industry — it may seem like one moment, you were listening to Kesha's "Tik Tok" on your throwback playlist at the gym, and the next, you were seeing the hashtag #FreeKesha everywhere, referring to Kesha's court case against Dr. Luke and the timeline of events that led up to it. Last week, a judge denied Kesha's injunction against producer Lukasz Gottwald (more commonly known as Dr. Luke), which means she must continue to record music under her contract with his label, Kemosabe Records, and Sony Music, despite Kesha's allegations that Dr. Luke sexually assaulted her.
The ruling only took place on Friday, but things have been broiling between Kesha and Dr. Luke for a while now. To understand how things came to a head between the world's favorite glitter-bomb star and her producer of ten years, it helps to rewind back to Kesha's beginnings as an artist.
2005: Dr. Luke Signs Kesha to Kemosabe Records
One of Kesha's demos, created with her songwriting mother, Pebe Sebert, got into the hands of Dr. Luke, according to Billboard. He called her from Sweden, got her to join him for a meeting in New York, and then signed the 18-year-old singer-songwriter to his label, Kemosabe Records, and his publishing company, Prescription Songs.
After signing her, though, Dr. Luke reportedly remained strangely uninvolved with Kesha, who did some songwriting with DAS Communications, a management company, for a couple of years.
2008: DAS Attempts to Sign Kesha to Warner Bros. Records
According to The Wrap, DAS was so fond of Kesha's songwriting and singing that they tried to get her to sign with Warner Bros. Records. But Kesha's contract with Dr. Luke raised too many questions, according to Billboard, and the Warner Bros. contract fell through.
This same year, Dr. Luke pulled Kesha onto a track with Flo Rida, and her vocals became the hook for "Right Round." (Yeah, you remember that song, I know you do.) Kesha didn't make a cent off the song, however. According to Much Music, Dr. Luke allegedly denied her a writing credit for Flo Rida's "Right Round," and despite the song's booming success, Kesha made no money off the track.
2010: Animal Becomes a Success
Kesha's debut album, Animal, hit the airwaves and topped the Billboard 200. Her single, Tik Tok, was equally well-received. I sang it in my dorm room. You sang it in your car. The world grew to know and love Kesha and her "brush my teeth with a bottle of Jack" attitude.
Meanwhile, Dr. Luke won ASCAP Songwriter of the Year, according to The Wrap, and DAS Communications sued Kesha and Dr. Luke for $26 million. The company reportedly claimed Dr. Luke "induced, intimidated and convinced" Kesha to end her contract with DAS. In a secret deposition, Kesha said under oath that Dr. Luke didn't assault her — which Dr. Luke would later bring up in Kesha's lawsuit — and the case was eventually settled in 2012.
2011: Cannibal and We R Who We R Further Bolster Kesha's Fame
Cannibal, Kesha's second album, was a reissue of Animal that included her single "We R Who We R." She launched her tour, "Get Sleazy," which expanded to cover three continents after quickly selling out.
2012: Warrior is Released
This album, which was home to the single "Die Young," was written by Kesha and produced by Dr. Luke. Things started to get publicly difficult between Dr. Luke and Kesha around this time — in her documentary for MTV, My Crazy Beautiful Life, Kesha said she had little creative control over the album, according to Much Music.
Warrior was instantly popular, and the album reached sixth place on the Billboard 200 list. Kesha's recent lawsuit claimed Dr. Luke agreed to renegotiate their 2005 contract to increase Kesha's royalties, but that he reneged on the promise, according to The Wrap.
2013: The Warrior Tour Takes Off, & So Do Tensions Between Kesha and Dr. Luke
Kesha took off on her Warrior tour, but tensions grew between the star and the producer. The Georgia Straight reported that Kesha wrote 70 songs for Warrior that Dr. Luke refused to use on the album. Kesha's mother tweeted claims that Dr. Luke was stifling Kesha's freedom, according to Idolator, and said she hoped Kesha would be dropped from his label.
"What's been put out as singles have just perpetuated a particular image that may or may not be entirely accurate," Kesha told Rolling Stone that same year. "I'd like to show the world other sides of my personality. I don't want to just continue putting out the same song and becoming a parody of myself. I have so much more to offer than that and I can't wait [until] the world really gets to hear that on the radio."
2014: Kesha Checks Into Rehab For Eating Disorder and Sues Dr. Luke
Kesha checked herself into a rehab facility for two months after struggling with an eating disorder. Shortly afterwards, her mother spoke out to People about the role Dr. Luke allegedly played in Kesha's eating disorder, saying,
Dr. Luke told a friend of ours he thought she looked like a refrigerator on her latest video, and could she please try to control her weight. After she went on a 14-day juice cleanse, he said, "Thank God you finally got rid of the weight! We've all been talking about it!" So she felt like she couldn't trust anyone.
Dr. Luke issued a statement denying the claims. However, in October, Kesha sued Dr. Luke, saying he "sexually, physically, verbally and emotionally" abused her over the course of a decade, according to Rolling Stone. Dr. Luke turned around and countersued Kesha for defamation.
2015: Kesha Expands Lawsuit to Include Sony
According to The Wrap, Kesha expanded her lawsuit to include Sony in June, claiming the record company ignored Dr. Luke's behavior. The lawsuit also put forward an injunction that would give Kesha creative freedom and allow her to produce albums without Dr. Luke — since under her current contract, Dr. Luke has the final okay on any music Kesha produces.
2016: Kesha's Injunction is Denied
A judge ruled against Kesha's injunction to be released from her contract with Sony and Dr. Luke, saying there was a lack of evidence to support her claims and showing that Dr. Luke invested $60 million in Kesha's career. Since Sony and Dr. Luke said Kesha would not have to work with Dr. Luke directly, there was apparently no reason not to continue with their contract. Lena Dunham, who wrote about the case on Lenny Letter, likened the court ruling to this:
Imagine someone really hurt you, physically and emotionally. Scared you and abused you, threatened your family. The judge says that you don't have to see them again, BUT they still own your house. So they can decide when to turn the heat on and off, whether they'll pay the telephone bill or fix the roof when it leaks. After everything you've been through, do you feel safe living in that house? Do you trust them to protect you?"
Luckily, fans, musicians, and other supporters have come out in droves to help Kesha after her injuction was denied in court. With any luck, this will force Sony to change their decision, or will help Kesha find ways around the contract she is still locked into.