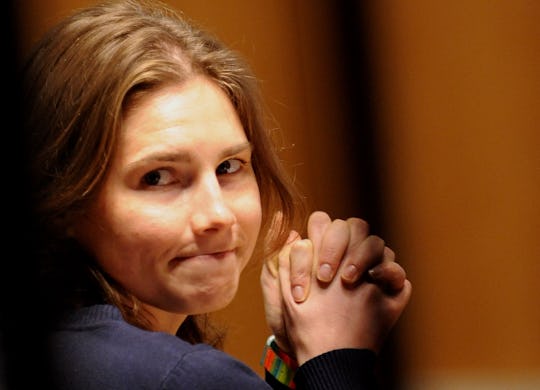 TIZIANA FABI/AFP/Getty Images
A Timeline Of The Amanda Knox Trial Shows What A Complicated Case It Was
True crime is more popular than ever in the media lately. It can feel like there's a new documentary every week, each one exploring a case that captured public attention either because justice was not served or because it was served incorrectly. Netflix is set to release the documentary Amanda Knox on Sept. 30, which dives into the details of the media circus that ensued after the murder of university student Meredith Kercher. Kercher's roommate Amanda Knox and Knox's boyfriend Raffaele Sollecito were taken into custody for the crime, but it was far from a cut and dry case (Knox and Sollecito were eventually cleared of any connection to the crime). A timeline of the Amanda Knox trial can be helpful in navigating the confusing events that unfolded after her arrest.
Though Knox was convicted and acquitted of Kercher's murder twice in Italian courts during a trial that dragged on for eight years, she is now back home in the United States. Currently, Rudy Guede is serving time for Kercher's murder. Many things led to the case receiving so much media attention: the violence of Kercher's death, Knox's apparently cavalier attitude afterwards, and the difficulties of dealing with the Italian justice system. Though it seems like the right person is in prison now, Knox's name will forever be linked to this crime regardless of her innocence.
Nov. 1, 2007
British student Meredith Kercher, who is studying abroad in Perugia, Italy, is killed while in her flat, sometime after 8:45 p.m. Her roommates are out: Amanda Knox is staying with her Italian boyfriend Raffaele Sollecito; Filomena Romanelli and Laura Mezzetti are out of town.
Nov. 2, 2007
Knox returns to the flat in the morning, but doesn't immediately realize anything is amiss despite finding the door open and noticing drops of blood in the bathroom. Knox assumes Kercher is sleeping because her bedroom door is shut and locked. Knox leaves, returning later with Sollecito, and becomes concerned when Kercher does not respond to knocking. Sollecito calls the emergency number and Knox calls roommate Romanelli, who returns to the flat. The police arrive but decline to force Kercher's door open, so Romanelli's friend does. Kercher's body is discovered in the room.
Nov. 5-6, 2007
Knox and Sollecito are taken in for questioning. Knox's behavior is criticized because it seems unusual for such a serious situation: she's seen kissing her boyfriend and stretching (it is later reported that she was doing cartwheels). Knox implicates her boss Patrick Lumumba in the crime and he is also taken in. Knox allegedly confesses to being home when Kercher was killed, but then writes a note saying the confession was coerced.
Nov. 20, 2007
Lumumba has an alibi for the night in question, so he is released from custody.
Nov. 22, 2007
Knox's note is made public. It reads: "In regards to this 'confession' that I made last night, I want to make clear that I'm very doubtful of the verity of my statements because they were made under the pressures of stress, shock and extreme exhaustion. Not only was I told I would be arrested and put in jail for 30 years, but I was also hit in the head when I didn't remember a fact correctly."
December 2007
Rudy Guede is found in Germany and extradited back to Italy. His DNA had been found in Kercher's body and his bloody fingerprints were at the scene. He claims that he had consensual sex with Kercher, but someone else killed her while he was in the bathroom.
July 11, 2008
Knox, Sollecito, and Guede are officially charged for Kercher's murder.
Oct. 28, 2008
Guede, who had previously asked for a fast track trial, is found guilty and sentenced to 30 years in prison.
Jan. 16, 2009 - Dec. 4, 2009
Knox and Sollecito's trial for murder begins in January and continues for the rest of the year. In December, she and Sollecito are found guilty and sentenced to 26 and 25 years in prison respectively.
June 1, 2010
Knox is brought up on slander charges for her claims against the Italian police.
Nov. 2010
The slander case goes to trial, and Knox and Sollecito also begin the appeal process for the murder charges. One lawyer is not present, so the cast is adjourned until December.
Jan. 22, 2011
Forensic experts plan to retest the DNA evidence used to convict Knox, but results will not become available until May.
June & July 2011
Two inmates testify to Knox's innocence in the murder, but their testimony is not considered credible because they have differing stories on who the actual killer was. The results of the forensic evidence indicate that the DNA evidence is unreliable. The knife thought to be the murder weapon did have Knox's DNA on the handle but had no traces of Kercher's DNA or blood on it. The other piece of evidence used to link Sollecito to the murder, DNA found on Kercher's bra clasp, was considered unreliable because the clasp wasn't collected until six weeks after the crime.
Oct. 3-4, 2011
Knox and Sollectio's murder convictions are overturned and they are released. Knox is found guilty of defamation for falsely accusing Lumumba of the murder. Knox returns home to Seattle.
March 26, 2013
The Court of Cassation in Rome, which is Italy's highest criminal court, decides to overturn the appeal and retry Knox and Sollecito.
Nov. - Dec. 2013
Sollecito returns to Italy to take the stand, but Knox does not; she reasserts her innocence in a written statement.
Jan. 30, 2014
Knox and Sollecito are once again convicted of Kercher's murder. She is sentenced to 28 years and six months while he is sentenced to 25 years. It is believed that more than one person was involved in Kercher's death, which was in part why the court sought to re-convict Knox and Sollecito. Guede is not believed to have been the only perpetrator.
March 27, 2015
The murder convictions are overturned (again) by the Italian court. The case is closed.
It's no surprise that a case as complicated as this one garnered so much media attention. With the release of Netflix's new documentary – and the new interviews with Knox in it – hopefully some new light can be shed on the long, confusing trial.