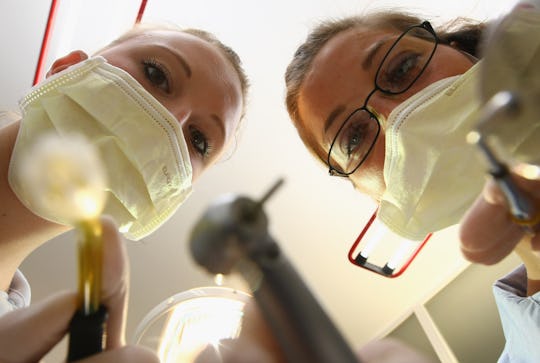 Sean Gallup/Getty Images News/Getty Images
A 3-Year-Old Died After Going To The Dentist
For most families, going to the dentist is a hassle. Having people pry at your mouth, and poke at your gums isn't exactly pleasant, especially for kids. But, there's also a degree of normalcy at the dentist's office. No one really expects anything to go wrong, other than perhaps a cranky two-year-old biting the dentist's finger. Which is partly why this latest piece of news is especially heartbreaking. Now, a toddler is dead after a dental procedure, and no one really knows why. While so much is still unknown, this tragedy definitely isn't welcome news.
Earlier this week, three-year-old Daleyza Avila-Hernandez was in the waiting room at her dentist office, playing with some toys. When she went back with the dentist, all seemed well. Then, about 30 minutes later, the girl's mother, Araceli Avila, heard sirens and saw an ambulance arrive. ""I stood up to see, and I thought to myself, they are here for a child, but never thought it was my child," she told CBS News. Unfortunately, she was wrong, and Daleyza was rushed to the nearest hospital, where her family says she later died. While an autoposy has yet to be completed, Avila insists that her daughter was "very healthy."
According to MSN, Avila was confused about what went wrong in the operating room. "The nurse said my daughter's heart stopped," she explained, "but she was stable and not to worry and told me my daughter has heart problems that maybe I didn't know of, but that's not true. My daughter was very healthy."
While an anesthesiologist was present in the room with Avila's daughter, there has been no confirmation if the child's death had anything to do with being put under anesthesia. Unfortunately, though, if anesthesia had played a role in Avila-Hernandez's death, it wouldn't be too surprising.
In 2016, an eerily similar accident occurred in Austin, Texas when 14-month-old Daisy Lynn Torres died after a visit to the dentist's to get a cavity filled. According to Time Warner Cable News, the events are much like those of Avila-Hernandez's death. "During the procedure, Daisy stopped breathing and was rushed by ambulance to North Austin Medical Center," where, later, she died.
For now, there is no clear answer as to what exactly happened to Avila's daughter, other than the fact that it's a senseless tragedy. Hopefully, an autopsy will shed some light onto what happened, and dentists everywhere will continue to be alert and observant when operating on young children.