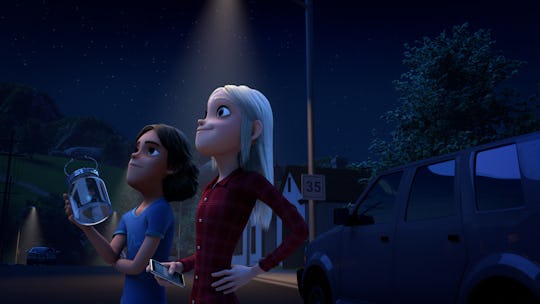 Netflix
'Trollhunters' Might Be Over But The Next Chapter Is Coming Sooner Than You Think
Although the final season of Trollhunters was released, this isn't really the end of the road for all those characters. Trollhunters was actually only the first part of the Tales of Arcadia trilogy on Netflix, and now that Trollhunters is over fans are wondering what comes next. The other two parts of the trilogy are 3 Below and Wizards, with 3 Below coming up first. So now that Trollhunters Season 4 isn't happening, when does 3 Below Season 1 premiere?
While the new show hasn't been given an official release date yet, it is scheduled to premiere later this year, and the two main characters of the new series were already introduced in Trollhunters Season 3. The new series will follow two royal teen aliens, Aja (Tatiana Maslany) and Krel (Diego Luna), who struggle to blend in at Arcadia while evading intergalactic bounty hunters. During Trollhunters, Aja and Krel helped the Trollhunters in their fight against the evil Morgana.
Although this new series in the Tales of Arcadia will be about aliens, fans can expect to see some familiar faces from Trollhunters to pop up in the new series. The series' executive producer Marc Guggenheim told Collider that Trollhunters fans will see certain characters again in 3 Below. "In fact, 3 Below allows relatively minor characters from Trollhunters the opportunity to shine, so we get to revisit those characters," he said.
Guggenheim also remarked on how 3 Below will differ from Trollhunters. "I think Trollhunters is a classic, Campbellian hero story like The Force Awakens, telling a very tried-and-true story that you've seen the classic structure of," he said. "3 Below is a lot wackier and a much more unconventional show. I'm just as proud of 3 Below as I am of Trollhunters, just for completely different reasons." Additionally, Guggenheim stated that 3 Below will be "even more visually impressive than Trollhunters."
Along with Aja and Krel, they'll also be joined by their bodyguard. The trio ended up in Arcadia because they were fleeing a surprise takeover of their home planet by an evil dictator and they just so happened to crash land in Arcadia. While they're on the run, they'll also be working to repair their ship so they can return home and defend their planet.
There hasn't been much else announced about the new series or how long it will be. Presumably, it'll be about three seasons long like Trollhunters, but that hasn't been confirmed yet. And then after 3 Below comes Wizards, which is set to be released in 2019. Little is known about the final installment in the Tales of Arcadia trilogy. However, this is what the synopsis for the series says:
DreamWorks Wizards brings together the three disparate worlds of trolls, aliens, and wizards who have found themselves drawn to Arcadia. The final chapter of the Tales of Arcadia culminates in an apocalyptic battle for the control of magic that will ultimately determine the fate of these supernatural worlds that have now converged.
Thus, Wizards will be an epic conclusion for this fantasy and action-filled animated series that has been years in the making. One wizard that fans have already been introduced to is Merlin, who made his appearance in Season 3 of Trollhunters. While it hasn't been confirmed, it feels fair to assume Merlin will be a major player in Wizards, and there's no doubt a number of familiar faces will be there for the final battle in Arcadia as well.
Although there's still a bit of a wait for both 3 Below and Wizards, you can watch now watch every episode of Trollhunters on Netflix. If you haven't seen the popular and Emmy-winning series yet, now's the perfect time to watch.