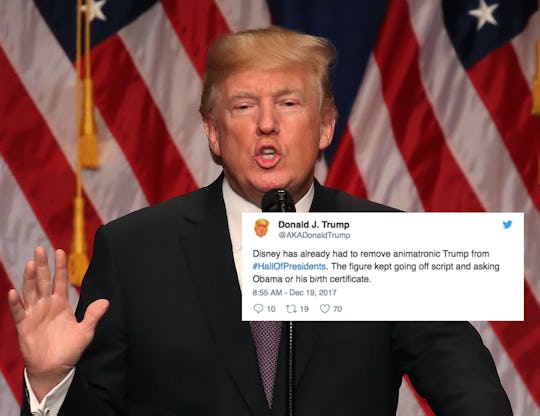 Mark Wilson/Getty Images News/Getty Images
Disney World Has A New Trump Animatronic, & Twitter Is Obsessed With It
It had to happen eventually, right? Earlier this week, a President Donald Trump animatronic finally joined Disney World's Hall of Presidents in Florida, and the news has since taken the social media world by storm. People are freaking out about several things: the way the Trump animatronic looks, the way the other presidents' animatronics seem to be looking at him, and, um, whether he should be in the hall at all.
The new robot Trump — donned in a suit and tie, sans trademark baseball cap — could move its arms and head around, and it gave a speech that the president had recorded for Disney earlier this year, according to The Orlando Sentinel. One portion of the speech was a re-recording of Trump's presidential oath, while the rest focused on the Constitution and the American people. In the recorded speech, according to The Orlando Sentinel, Trump said:
To be American is to be an optimist — to believe that we can always do better — and that the best days of our great nation are still ahead of us. It's a privilege to serve as the president of the United States, to stand here among so many great leaders of our past, and to work on behalf of the American people.
Take a peek at Disney's version of the current president in action:
Disney World had originally planned to reopen the Hall of Presidents attraction in June, but it had to push the grand opening to fall, and then eventually to winter, according to Today. And perhaps it was because of the multiple delays that the public was so surprised when it finally got a glimpse of Disney's animatronic Trump.
At first glance, it seems like Trump is fitting in just fine among the other presidents, delivering a less-controversial-than-usual speech and flashing his signature double thumbs-up sign. Totally normal, right? Except users on Twitter were quick to dig up close-ups of the Trump animatronic's face, and they were, understandably, a little bit horrified.
People were also wondering where Trump's tweet-friendly cell phone was and why his speech didn't include a tirade against the media. In fact, the reaction to Trump's animatronic on social media was so good that it deserves to be broken down into several categories. Please sit back and enjoy.
Some People Are Patiently Waiting To Hear Trump's Take On His Animatronic
Others Are Wondering Why His Speech Was So Tame
A *Lot* Of People Are Convinced This Animatronic Started As A Hillary Clinton Robot
These Other Presidents Clearly Aren't Having It
... & Nearly Everyone Is A Bit Horrified
Ah, Disney — warming hearts and bringing smiles to faces all year 'round. Personally, I think Disney nailed Trump's animatronic robot: the company managed to appease Trump fans (by including his speech and putting him center stage) and those less fond of the 45th president (by making him look like something that's not entirely human).
Romper reached out to Disney World about the new animatronic, but did not hear back immediately. The president has yet to make any comments about the animatronic on social media or in person (according to The Washington Post, however, it's been a full 306 days since Trump held a press conference at all, so I wouldn't hold my breath on that front).
If you're keen on visiting Trump's animatronic in person, Disney World's Hall of Presidents officially reopened on Tuesday — so all you have to do is get yourself over to Florida and go on a trip to the happiest place on earth. If you do visit, please make sure to send up-close-and-personal pictures of the new animatronic to the rest of us.
Check out Romper's new video series, Romper's Doula Diaries:
Watch full episodes of Romper's Doula Diaries on Facebook Watch.