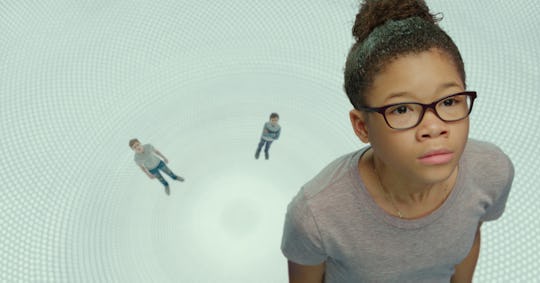 Walt Disney Studios
'A Wrinkle In Time's Storm Reid Wants Girls To Know "They Are Enough"
Storm Reid, like many of us, did a book report on A Wrinkle In Time in the 6th grade. Of course, you and I didn't go on to star in the film version, at the helm of a cast including Oprah Winfrey, Reese Witherspoon, Mindy Kaling, Chris Pine, and many more — Storm did, though. "The universe came full circle," Reid tells me in an interview days before a nationwide theatrical release that will launch her into a stardom beyond our galaxy.
Reid, a 14-year-old actress who is only at the precipice of her career, says when she originally read A Wrinkle In Time, she didn't see herself in Meg. She understood Meg, but the character in the original text by Madeleine L'Engle is a white girl. For Reid, the importance of a black girl playing a lead role in a film millions of little girls will see does not go unnoticed. "To be able to represent young girls — young people — that look like me, and to let them know that ... they can save the world if they wanted to. They may have faults and they may have mistakes, but it doesn't define them," Reid says. "It makes them unique."
Mindy Kaling, Mrs. Who in the film, echoed the same sentiment in an interview with The Grio. She said, "I loved science fiction and fantasy growing up, but it was a genre that largely didn't love me back. I never saw any representation of a dark skinned Indian woman or Indian girl in anything." In the same interview, Ava DuVernay, A Wrinkle In Time's director, told The Grio that she had always dreamed of flying as a kid but never got to. "... Storm got to do it for us."
The week before the film's nationwide release, Reid tells me that even though Meg doesn't look like her in the book, "I really related to [her.]" After all, they're both teenagers, growing into the women that they'll become. "Meg is so peculiar," Reid says, "I thought it was so amazing that she didn't see how beautiful, and smart, and gracious she was." The film, while fantastical and visually stunning — casted with megastars — is very much about finding the beauty (and the light) within yourself. In the climax of the film, Reid's character Meg declares, "I deserve to be loved."
Meg Murry is a character that, despite her age, many can identify with. She is different, so smart, brave, and stands up for what she believes in. She doesn't let herself be bullied, and she doesn't give up. She is wounded — four years have passed since her father's disappearance, and she hasn't been able to come to terms with it. She has fallen behind in school, become a target to bullies, and doesn't see the beauty that she holds. She is embarrassed when Calvin, her classmate, proclaims that her natural hair is beautiful. And later, when Mrs. Which (Oprah Winfrey) tells her she's beautiful, she says she'd like to return back to her universe as "somebody she might like."
"[Young girls] are smart, they are beautiful, and they don't have to conform to what society wants them to do ... They shouldn't feel like they aren't worthy of being loved."
The film is about finding the light, whether that be across the universe or within yourself. Mrs. Who (quoting Rumi) says in the film, "The wound is the place where the light enters you," which holds a special meaning when examining the character of Meg. She's hurt and closed off by the pain of missing her father, but at the same time, that wound is begging the light to flood and fill it.
Reid is spreading the light, she says, in her own way, and has advice for girls that may find themselves struggling, just like Meg.
"I want young girls to know that they are enough," Reid says. "They are smart, they are beautiful, and they don't have to conform to what society wants them to do ... They shouldn't feel like they aren't worthy of being loved."
Reid talks to me about growing up in "dark divisive times" — she strives for the world to become united. I can tell there is hope in her voice that a film like A Wrinkle In Time can make an impact and spread the light that the film's heroine learns to capture within herself.
"As long as we know that we are beautiful and we can find the light from within ourselves, we can be the light for others," Reid says.
Storm Reid is clearly a force. She's wise beyond her years, but it is in the moment I ask her about superpowers that I remember that Reid is just a kid. She says she'd "want a couple things." She'd want to be able to fly, be invisible, and be able to read people's minds. But Reid says she already has a superpower — kindness. "I think all people can do this," she says. "... To spread kindness throughout the world and gratefulness and positivity."
Before speaking with her, I went onto Reid's Instagram. It's cluttered with images of her doing press for the film, visiting libraries, dancing, and being a teenage girl. There's also a quote, source unknown, that captures Storm Reid and the drive she carries with her. It says, "The devil whispered in my ear, 'You are not strong enough for the storm.' Today I whispered in the devil's ear, 'I am the storm.'"
A Wrinkle In Time hits theaters on March 9.