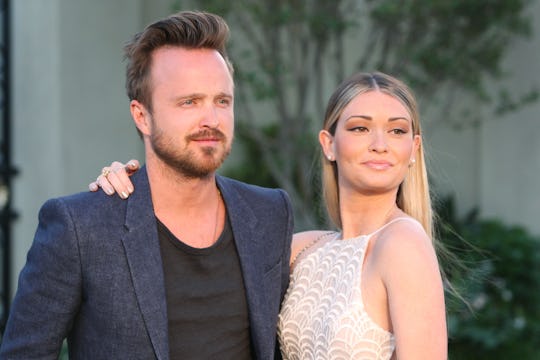 David Buchan/Getty Images Entertainment/Getty Images
Aaron & Lauren Paul Welcome Their First Child With The Sweetest Photo Announcement Ever
Shortly after I gave birth, I made a clear decision to never have another kid again. I realized I am a one-kid kind of mama, and that was totally OK. But sometimes, when I see photos of too-cute-for-their-own-good newborns, baby fever hits me hard. So imagine how I felt when I saw Breaking Bad actor Aaron Paul's new bundle of joy. Two words: Ovaries exploded. On Thursday, Aaron and Lauren Paul welcomed their first child together, according to The New York Daily News and she's just too stinkin' cute.
The dynamic duo, who confirmed the pregnancy back in September, took to their respective Instagram accounts on Thursday to announce the birth of their new daughter, the Daily News reported. Actor-director Lauren Paul, co-founder of the Kind Campaign captioned her Instagram photo of their baby girl, "There are no words that will ever be able to explain what just happened to my heart," while the Breaking Bad alum wrote on his Instagram post, "My heart," alongside a black and white photo of their new daughter's foot.
The couple have yet to reveal their daughter's name, according to People. Aaron told the magazine back in December that they would know her name when she arrives.
He told People at the Season 3 premiere for Hulu's The Path, in which he stars as the titular character, Eddie,
We have a few, a few names. If one of us didn't like one of the names it never made it into the pile. We have a handful of names and we're going to name her once we meet her.
Breaking Bad fans seem to be overjoyed for the couple. One Instagram user commented on Lauren's post, "All babies are cute... but this post stopped me in my tracks and I literally said out loud 'oh my God. she's so beautiful.' Congratulations to you all!" Another user wrote on Aaron's post, "Congratulations!!! Welcome to parenthood, it's the best adventure yet!" And one even called the BoJack Horseman executive producer a "DILF." (I'm sure I don't have to spell out that acronym, right?)
Aaron couldn't contain his excitement over the pregnancy. Back in December, Aaron opened up to US Weekly about preparing for the birth of their baby girl. He told the magazine,
I hang out in her nursery a lot, it's almost done, It's quickly turned into our favorite room of the house. Everything's very light and just warm, it feels like a little nest. It's the most exciting time of our lives.
The 38-year-old actor also told Jimmy Kimmel during a January appearance on his late-night show, Jimmy Kimmel Live!, that the couple had hired a doula to prepare for childbirth and provide postpartum support, according to E! News. At the time, he said to Kimmel, "Do you know what a doula is? I had no idea what a doula was, but she's teaching us some stuff."
The new parents announced six months ago that they were expecting their first child together in an Instagram post on Aaron's account, CNN reported. The sweet photo shows the 31-year-old director and actor in a burnt orange midriff and green floral form-fitting skirt, holding her baby bump. Aaron, who has won awards for his portrayal as Jesse Pinkman on Breaking Bad, captioned the post,
Hey everyone. Look what I did. Words can't express how excited I am that this little one has entered our lives. Just thought it was time I would share this beautiful news with all of you.
Lauren and Aaron Paul met years ago at Coachella, and exchanged wedding vows in 2013 at Los Angeles' Chateau Marmont, according to the Daily News. And it looks like their life together is only getting more and more exciting as time goes by. Congrats to the family.
Check out Romper's new video series, Bearing The Motherload, where disagreeing parents from different sides of an issue sit down with a mediator and talk about how to support (and not judge) each other's parenting perspectives. New episodes air Mondays on Facebook.