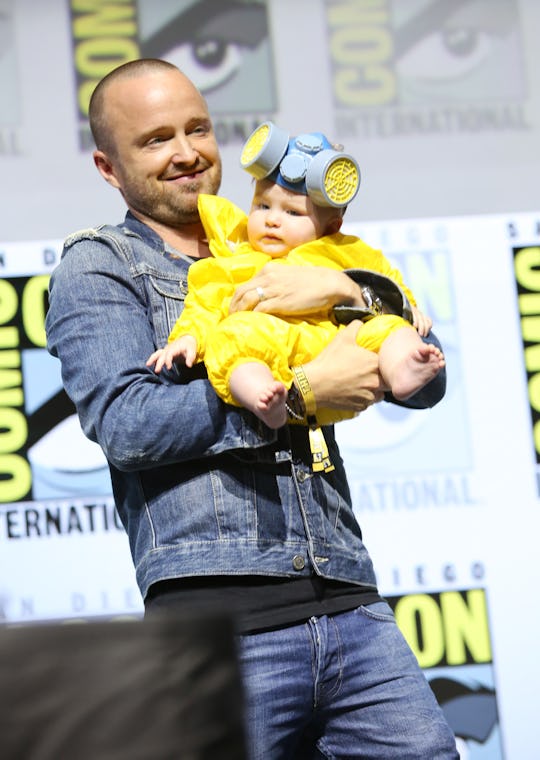 Jesse Grant/Getty Images Entertainment/Getty Images
Aaron Paul Dressing His Baby In A "Breaking Bad" HazMat Suit Is Total Dad Goals
It's hard to believe that it's already been 10 years since Aaron Paul played crystal meth-cooking Jesse Pinkman on the hit show Breaking Bad. But on Thursday, the cast of the show reunited at Comic-Con in San Diego to celebrate the milestone anniversary, and it quickly became clear that these days, Paul's biggest fan is also his tiniest (and cutest!). Aaron Paul dressed his daughter in a baby HazMat suit and brought her up on stage, and it was a peak dad moment for the actor, who welcomed his little girl, Story, into the world five months ago with his wife, Lauren.
Even though it will likely be a long time before baby Story will actually be allowed to see her dad in action in episodes of Breaking Bad, Paul and his wife were definitely down to involve their baby daughter in the reunion fun, giving her her first taste of Comic-Con cosplay by dressing her in a yellow jumpsuit and mask, similar to what her famous dad often wore in his on-screen meth lab. And though that might not exactly be most parents' go-to costume choice, the result was both adorable and completely hilarious. As he and the rest of the show's cast made their way to the stage, Paul brought Story out on-stage briefly, according to Page Six, and unsurprisingly, the crowd totally loved it.
Paul became a father for the first time in February, according to People, but it was pretty clear even before then that the 38-year-old actor was definitely going to be one seriously smitten daddy. In an Instagram post in Sept. 2017, Paul announced his wife's pregnancy by sharing a snap of her showing off her growing belly. The caption read, "Hey everyone. Look what I did. Words can't express how excited I am that this little one has entered our lives."
Since then, Story has been a major fixture on both of her parents' social media accounts, and in one particularly sweet shot in February, Paul shared a pic of him carrying his daughter covered up in her car seat, and wrote, "Words can't describe how in love I am with this whole parenting thing."
As adorable as it is that Story made her Heisenberg-inspired Comic-Con debut at the Breaking Bad reunion, Paul has admitted that he does have a few concerns about his character's famous catchphrase now that he's a dad. In a Comic-Con chat with Conan O'Brien that aired on Conan, Paul said that a decade later, people still yell out "Yo, bitch!" whenever they see him out in public in an ode to the show, and while it may not be as frequent as it once was, he can't help but wonder if it might have an effect on his daughter. When asked how he plans on handling that phenomenon once Story gets a little older, Paul joked, "I mean, I'm just afraid that it may be her first word."
As unique a parenting challenge as that may be, Paul definitely seems like he'll be able to take it all in stride. And honestly, while he may always hold a place in fans' hearts for his Breaking Bad role, these days, it sounds like being a dad and husband is where his heart really lies. In a beautiful post on Instagram in March, the actor opened up about his love for his wife and daughter, and wrote,
The little one on the right is my daughter and she just turned a month old. Her name is Story and each breath she takes makes me weak. The sounds she makes when she stretches and yawns are what I live for. Her sneezing and hiccups make me feel warmth like I have never felt.
The sleeping beauty on the left is my wife. Her name is Lauren and she just happens to be the greatest human that I have ever met and she just happens to be a damn good mother. Truth is, I never believed in soul mates before meeting her but I can tell you right now that she is mine.
As seriously sweet as it is to watch Paul's life as a dad unfold on social media, it is pretty cool to see him on stage again with his Breaking Bad castmates after all these years.
And though it definitely seems like his life now couldn't possibly be any further away than that of his iconic character's, it must have been a seriously special moment for the actor to be able to share the reunion experience with his baby girl.