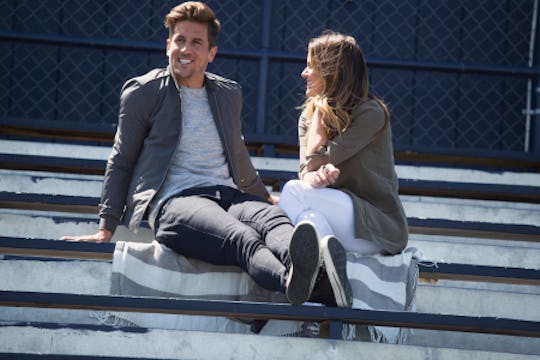 ABC/Carl Costas
Aaron Rodgers Addresses Jordan Rodgers On 'The Bachelorette' & His Thoughts Make Sense
From the moment he arrived at The Bachelorette mansion, Jordan Rodgers more or less stole the show. His sweet smile, sense of humor, and six-packs made him a topic of conversation among competitors and viewers alike. And one of the biggest questions being asked during the season is what Jordan's brother, professional NFL quarterback Aaron Rodgers, thought of his appearance on the reality show. Well folks, the famed Green Bay Packers player has spoken. Aaron Rodgers addressed Jordan Rodgers being on The Bachelorette and it's not as dramatic as viewers may have hoped for.
Even before this season aired, fans were wondering when Aaron would offer his opinion on his brother's stint on The Bachelorette. It seems like fans assumed the former Super Bowl MVP would be supportive of his brother's quest for love, and were hoping that Aaron would take time out of practice to live-tweet the episodes. But as the season progressed, people learned that the Rodgers brothers don't share a lot of sibling love.
During a trip to Argentina, Jordan opened up to Jo Jo about his relationship with Aaron, saying they don't have a great relationship. "It's the way he's chosen to do life," Jordan said. "I chose to stay close to my family and my parents, and my [other] brother." The subject was brought up again during the hometown visits, when Jo Jo had a sit-down with Jordan's other brother Luke. During their chat, Luke revealed that there is some tension between Aaron Rodgers and the rest of the family, but that they don't talk about it a lot. (Well, except on national television.)
Until now Aaron has stayed silent on the topic. But in an interview with WISN-Milwaukee, Aaron admitted that he hasn't kept up with The Bachelorette. "I haven't seen the show, to be honest with you, so it hasn't really affected me a whole lot," he told the local news station. When asked about the drama between him, his siblings, and his parents, Aaron continued to be diplomatic. "As far as those kinds of things go, I've always found that it's a little inappropriate to talk publicly about some family matters, so I'm just -- I'm not going to speak on those things."
But the interview wasn't a complete downer. At the end, Arron said that he wished his brother well in his quest to win Jo Jo's heart. Will those well wished be enough for Jordan to win the final rose? You'll have to tun in Monday, August 1 at 8 p.m. ET to find out who Jo Jo says yes to. (Though, if we're being honest, my money is on Jordan.)