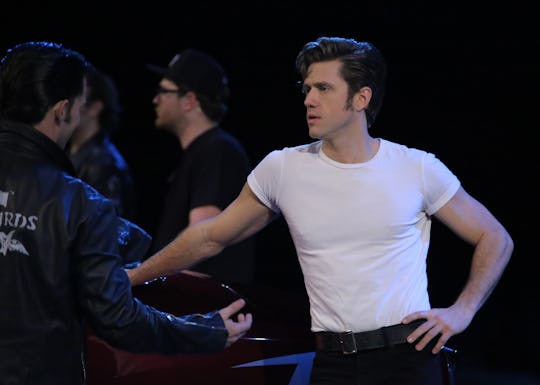 Grease: Live/FOX
Aaron Tveit's Arms In 'Grease: Live!' Pretty Much Stole The Show
Grease: Live brought everything fans love about Grease to a live TV performance: the tight, white t-shirts, the Chuck Taylors, the long, flared skirts — it all came back, and it was amazing. All those things were great, but the real show stealers were Aaron Tveit's arms in Grease: Live. In one particular gym scene, Tveit was wearing short shorts and a tight tank top, and the internet could not keep their eyes off of his arms.
Tveit masterfully portrayed Danny, the emotional guy who falls for Sandy and then masquerades as the super cool leader of the T-Birds. Danny was played by John Travolta in the original Grease, and Tveit said that he definitely took notes from the musical icon, according to the Hollywood Reporter:
I have watched the movie, I mean Travolta's amazing in it and the way that he does it. But also – because I'm a little more blond than he is – my Danny's more of a James Dean Danny than an Elvis Danny so I'm kind of thinking about that.
But that's not the only small change that Tveit made to Danny. He also seriously bulked up for the production. In a gym scene, Tveit's tiny uniform put his built arms and legs on full display, and the internet couldn't stop talking about them.
Not only was Tveit's Broadway voice making its mark on the show Sunday, but his ridiculously-toned physique seriously distinguished this Grease remake from the original. Someone send me back to the '50s.
It's clear that while, yes, Tveit was a great Danny, he also brought a new sex symbol element to the character, and people were really, really happy about it. Now, the $1 million question: are Tveit's arms stronger than his voice? There needs to be a serious vote about this pronto.