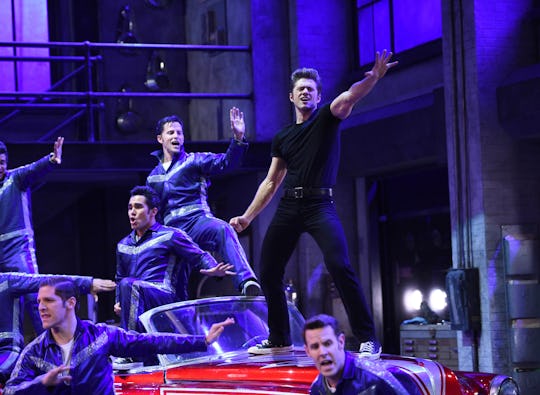 Michael Becker/FOX
Aaron Tveit's Hips Are The Stars Of 'Grease: Live!,' & Twitter Knows It
Aaron Tveit may have already been well-known for taking on roles in Les Miserables, Graceland, and Premium Rush, but his real talents emerged during the Jan. 31 airing of Grease:Live!. Many thought the point of re-creating Grease was to reintroduce the world to a classic musical, make it more progressive, and give Fox some good ratings. But it turns out, the updated musical was merely a way to showcase Aaron Tveit's hips — the real stars of Grease: Live. Seriously y'all, has hips, and he can use them better than Shakira.
Tveit's performance of "Greased Lightning" — sorry, "Dragon Wagon" — was a display of fantastic body rolls and hip thrusting. I have a feeling Tveit walked in to audition for the part of Danny Zuko, and all he had to do was do a bit of hip thrusting before they eliminated all other possible actors.
Twitter's definitely not complaining — it seems like the internet either wants Tveit or wants to be him, with one cheeky user tweeting, "What is [Aaron Tveit's] workout schedule asking for a friend..." The rest of the world was a little less subtle:
I'm expecting those hips to get their own credits at the end of Grease: Live. It would only be fair.