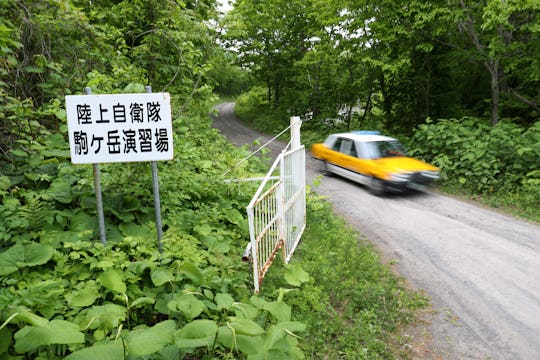 STR/AFP/Getty Images
Abandoned 7-Year-Old Boy Left In The Mountains As Punishment Survived On His Own
A 7-year-old boy named Yamato Tanooka was recently found in good health after going missing for nearly a week in the mountains of Hokkaido, Japan. Tanooka's parents have since made public apologies to the search teams involved with the rescue efforts, and to their son's school faculty. The abandoned 7-year-old boy was left in the mountain reportedly as punishment by his parents.
According to the Associated Press, Yamato was left in the woods on a mountain, on May 28, a region home to wild bears, as punishment for throwing stones at cars and people passing by. The boy's parents reportedly returned several minutes later, according to the AP, but Yamato was already gone. Yamato's parents first told authorities that their son disappeared while they were picking vegetables with their daughter, but later admitted they had driven off in their car and intentionally left him.
"I really didn't think it would come to that," Takayuki Tanooka, the boy's father, said according to the AP. "We went too far." He continued, "I thought we were doing it for my son's own good."
Yamato was found in relatively good health, considering he had only had water for six days, a CNN report indicated. A doctor reportedly noted that the boy showed signs of mild dehydration and malnutrition, with a light rash on his arms and legs.
Yamato's quick thinking and brave efforts may have expedited his successful rescue. He traveled to a Self-Defense Forces (SDF) base about 4 kilometers (roughly 2.5 miles) from where he was last seen with his parents, the BBC reported. A soldier found Yamato situated in-between a folded mattress he found at the base.
In a press conference, captured in a video and translated to English by the BBC, father Takayuki Tanooka talked about the pain their actions unintentionally caused his son:
My excessive behavior caused such pain to my son. I deeply apologize to the burden caused to the people involved in the search, and the school faculty. I have poured all my love into my son, but from now on, I would want to do more, with him. I will like to protect him while he's growing up. Thank you very much.
Many took to Twitter to express their thoughts on the incident. Using the hashtag, #YamatoTanooka, some condemned the parents' actions calling it "horrible," while others suggested the boy's parents should have kept an eye on him.
According to a report by ChannelNews Asia, a Singapore-based news publication that primarily covers news in Asian cities, Yamato's story has helped lead a national conversation about discipline practices in Japan. ChannelNews Asia pointed out that newer generations of parents in Japan have had a reputation of being much more indulgent and lenient on discipline, when it comes to raising their children, despite outside perceptions that suggest otherwise.
Respected Japanese education and parenting expert Ogi Naoki wrote a blog post this week that parents in Japan still desperately need to address the way they punish their children. "Perhaps from the viewpoint of the parents, they were disciplining the child, but to leave him there, and drive away in the car, that's clearly abuse," Naoki wrote according to The Los Angeles Times.
The BBC reported that authorities have said Yamato's parents could face charges for negligence. For now though, Yamato is back home, safe and sound where he belongs.