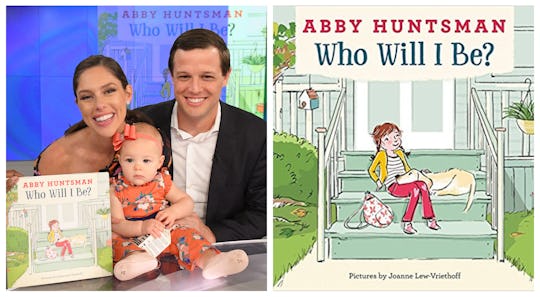 ABC/Lorenzo Bevilaqua; HarperCollins
This Sweet Kids' Book Is About Giving, But Not In The Way You Think
On The View recently, the biggest guest turned out not to be Anthony Scaramucci, aka, "The Mooch," but a little baby with a gloriously oversized bow on her head who was met with a reverent silence by the otherwise rambunctious studio audience. The baby was Isabel, the 10-month-old daughter of The View cohost Abby Huntsman, who has just released a children's book. (Huntsman's husband Jeffery Livingston was there, but Whoopi only had eyes for Isabel.) Huntsman spoke to Romper about her book, the newness of motherhood, and the best advice she has received ("Everyone tries to give you tips, and you're like 'yeah yeah,' but when you're in it you feel like you're the only one," she says.)
Huntsman became a household name through her work on networks like CNN, ABC, and most notably for Fox on Fox and Friends, where she had been a weekend cohost since 2016. The 32-year old took a break from working after she gave birth to her now 10-month-old daughter, Isabel, which she says was much needed. "The advice I got from other moms was "you'll never regret taking more time, [and] I loved it, I spent every waking minute with her," Huntsman says, noting the lack of sleep in the ~non-waking minutes~. She joined the cast of The View in August, just a few months after her maternity leave was over, bringing the total of conservative members at the View table to two.
Though your typical pregnant woman spends her final months ordering nursery decals and binge-watching true crime, Huntsman somehow found the time while pregnant last summer to write her first children's book. Doing morning television at the time was hard, she recalls: "Getting through the day I was like 'I can't do it.' The last two weeks of the pregnancy, I stopped working, because you just get so big, I'm sitting on the couch like, it's not comfortable for the audience to watch, no one wants to see that!"
The result of her passion project, Who Will I Be, illustrated by Joanne Lew-Wriethoff, was released in October from HarperCollins and focuses on the importance of service-oriented jobs, or, as the main character Isabel (named for her daughter) says, jobs that help people.
In class one day, Isabel's friends all seem to know what they want to be when they grow up; Isabel does not — all she knows is that helping people makes her feel good. But when her parents point out all the jobs that have a "helping" component, she finds a sense of anticipation for what she could do and who she could be.
I think having a baby makes you care about something so much more than you care about yourself, really.
Huntsman wrote the story for her daughter, struck by a bolt of inspiration when she fell pregnant. But there are also clear allusions to her own upbringing — as the daughter of diplomat, former governor of Utah, and contender in the 2012 presidential election Jon Huntsman Jr., and granddaughter of Jon Hunstman Sr., a billionaire philanthropist, she has an inside view of what public service looks like. (Her dad is now the U.S. ambassador to Russia.) Their family values were something she wanted to convey through a story her daughter could grow up with. "I think having a baby makes you care about something so much more than you care about yourself, really," which got her thinking about the bigger picture.
Although service-oriented jobs are everywhere — think teachers, doctors, police officers, librarians, custodians, and those in the military — Huntsman didn't see many children's books that talked about those careers. "When I went into book stores I couldn't find a book like that — a story about teaching children to give back or about serving this country."
It is a concern that obviously rings through her role as a mom. "My point of view as a mom has completely changed" since having Isabel, Huntsman says, "I feel even more the importance of the role I play as a mom to raise her the right way, and so she's happy, and finds her passion."
Alongside Goodnight Moon, The Hungry Caterpillar, and If You Give A Mouse A Cookie, Huntsman hopes Isabel will have a new favorite. "It'll be nice for her to always have that."