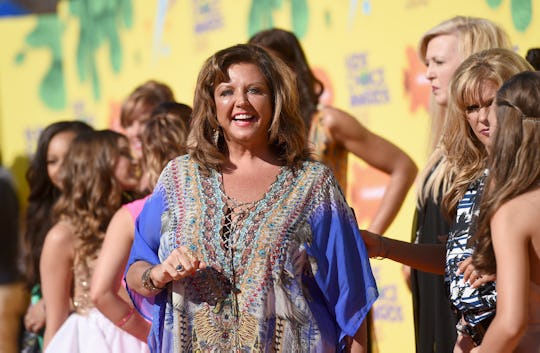 Jason Merritt/Getty Images Entertainment/Getty Images
Abby Lee Miller of 'Dance Moms' May Face Jail Time
As the former leader of Lifetime's reality series Dance Moms, dance teacher Abby Lee Miller is no stranger to drama. But over the last year or so, she's been embroiled in drama offstage that might have really put an end to her career. In fact, her run-in with the law might even have a higher cost than losing her TV show. Abby Lee Miller of Dance Moms may do jail time for fraud after she plead guilty in the over yearlong trial. Romper reached out to Miller's attorney, Robert Ridge, for comment regarding the sentencing, but has yet to hear back.
Back in April, Miller, 50, announced she was resigning from Dance Moms in an Instagram post, citing disagreements with producers as her reason, though many fans wondered if it may also have been influenced by the ongoing bankruptcy case Miller was involved in:
I will no longer take part in Dance Moms. For the past six years/ seven seasons I have asked, begged, and even demanded creative credit for all the ideas, award winning routines, themes, and costuming - to no avail! Today, I was so proud that I went against the producer's idea (once again) to enter a command performance of one of my favorite numbers... "Where have all the children gone?" along with three beautiful solos! I don't have a problem working with any kid, I love children and have dedicated my life to making other people's children successful! I just have a problem with being manipulated, disrespected, and used - day in and day out by men who never took a dance lesson in their lives and treat women like dirt!
Romper reached out to Lifetime regarding Miller's allegations, but has yet to hear back.
On Monday, Miller pleaded guilty to bankruptcy fraud and failing to report a large sum of money she brought to the United States from Australia, according to Reuters. Last fall, the dance coach was charged with hiding income and assets worth $775,000 while claiming she was bankrupt, according to People. Then, in August of 2014, Miller was accused of violating laws about carrying and claiming large sums of money across international borders, as People also reported. She was indicted back in October, according to a press release from the United States Attorney's Office, Western District of Pennsylvania.
In January, Miller agreed to forfeit the $120,000 she had been accused of illegally concealing upon her return from Australia, according to the Associated Press. On Tuesday, a federal judge in Pittsburgh, Pennsylvania sentenced Miller to a year and a day in jail, plus two years probation after her release, according to the Associated Press. She is also required to pay a $40,000 fine. According to the report, Miller pleaded guilty on both counts last year: bankruptcy fraud and the unreported income.
It is unknown how much of the jail time Miller will actually do, though she's known for a while now that it was a possibility: in April, she told People that she's had "to stay busy. If I thought about it every day, I'd just sit around and cry."