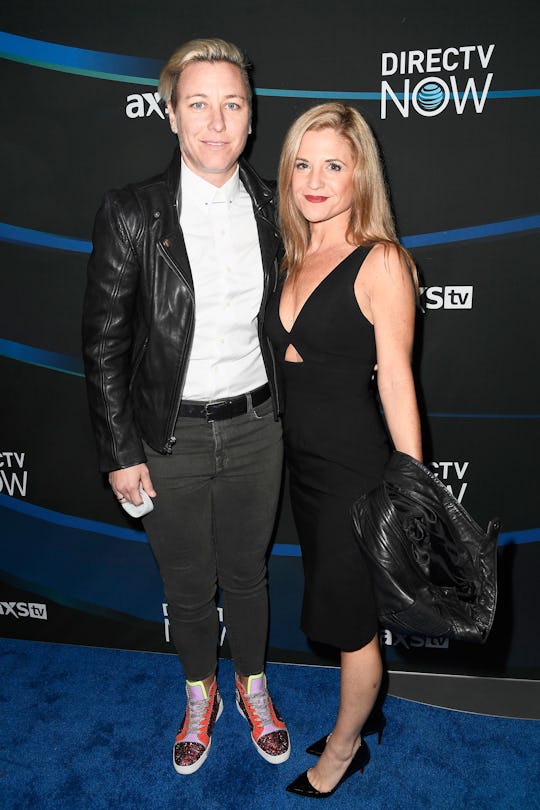 Frazer Harrison/Getty Images Entertainment/Getty Images
Abby Wambach & Glennon Doyle Melton Are Engaged!
Olympic gold medalist, legendary soccer player, and all-around badass Abby Wambach is officially engaged. The retired athlete has been through her fair share of struggles and hardships, which she described in her new autobiography, Forward, but has been on the up and up since April 2016 when she was arrested for driving under the influence and undertook steps to reach sobriety. In her autobiography, Wambach also wrote she was divorcing from her wife, Sarah Huffman, to whom she had been married since 2013. Since then, it seems Wambach has found happiness and joy with girlfriend — and now fiancée — Glennon Doyle Melton, a Christian blogger. And now that Wambach is engaged, it seems things are only destined to improve even more.
Wambach and Melton have been dating since November 2016, just three months after Melton divorced her husband and the father of her three children. As both women have been married before, it's heartwarming to see that they're getting happy endings once again, after all they've both been through in the spotlight.
Neither woman has been quiet about their relationship, and both have shared frequent posts to their social media accounts with photos documenting their time together. But, perhaps one of the sweetest posts the couple have shared so far was Melton's post announcing the engagement, which she shared via Instagram on Saturday.
"Abby and I decided to hold hands forever. First, fiercely, and forever," Melton captioned the photo, which featured the two holding hands, engagement rings on display. Wombach also posted the same photo to her own Instagram, with the simple caption, "Happy #iseethemoonnow"
Wambach has been dating women since she was in high school and has never been shy about speaking of her own personal struggles and triumphs. When she appeared on Good Morning America to talk about her autobiography, Wambach discussed some of the issues she addressed in the book, such as "being gay and then having some of these demons that I felt I had to numb away" (the latter referring to her 2016 arrest).
Since making their relationship public, the two have been very outspoken about their affection towards each other, and what it means for them and their futures. Melton's blog, Momastery, focuses on family matters and parenting issues, and while she hasn't posted to the blog about her engagement to Wambach, it won't be surprising if she does, as Melton often features her across her various platforms.
While the two haven't been dating for too long, it's extremely clear that they're happy together. As Melton says, they are each other's home, and that's what matters.
Congratulations to the happy couple!