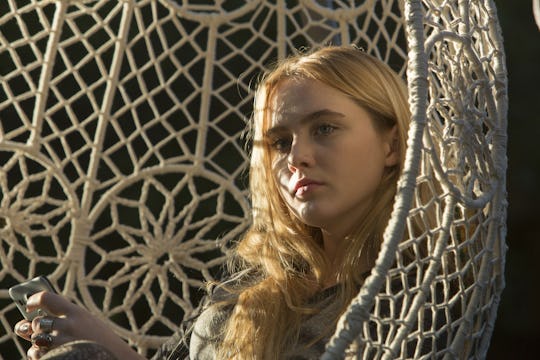 Hilary Bronwyn Gayle/HBO
'Big Little Lies' Revealed Abigail's Secret Project
Big Little Lies isn't just all about the parents of Otter Bay Elementary School — it's about their children, too. While Madeline has a daughter, Choloe, who is just starting first grade, she also has a teenage daughter from her first marriage: Abigail. While Abigail seemed to have a bigger role in the novel than the series, one element of her character remains the same: her secret project. On Sunday's episode, she revealed it to her father and Bonnie, who were compelled to tell Madeline. Of course, she was furious. Abigail's secret project is revealed on Big Little Lies and you might want to be sitting down for it. (Warning: minor spoilers from the novel ahead!)
It gets lost in translation a bit in the series, but in the novel, Abigail and Madeline are at odds. The teenager is coming into her own – and very much influenced by her stepmother, Bonnie. She starts eating a vegan diet and learning about Amnesty International and human trafficking. Abigail then decided to embark on a "secret project" in order to help others. This was hinted at earlier, with Madeline finding a "sexy" photo of Abigail on Facebook — and mind you, Abigail is 14-years-old in the novel and 16-years-old in the series. What could she be up to?
As it turns out, Abigail thought of an... interesting way to bring awareness to human trafficking: she decides she will auction off her virginity online. Nathan and Madeline exploded when they find out, but Bonnie (in true form) remained calm. She applauded Abigail for caring, despite the misguided way she wants to help. On Sunday's episode, "Burning Love," Madeline and Abigail have a conversation about it that did not occur in the novel: Madeline confessed she has messed up more royally than Abigail's virginity auction, and revealed her affair (which is also new to the series). Despite her anger, Madeline knows that Abigail's intentions were good.
Thankfully, there was a happy ending to Abigail's auction in the novel. A secret donor (Celeste, using Perry's fortune) gave $100,000 and pretended to be an old man who had no interest in what Abigail was auctioning off. The $100,000 went to Amnesty International — so while it may have been an unconventional method, the secret project did end up helping people. I don't know how this will play out in the series, but it's likely to run the same course. Abigail definitely added some drama to the mix, but the fire was soon put out.