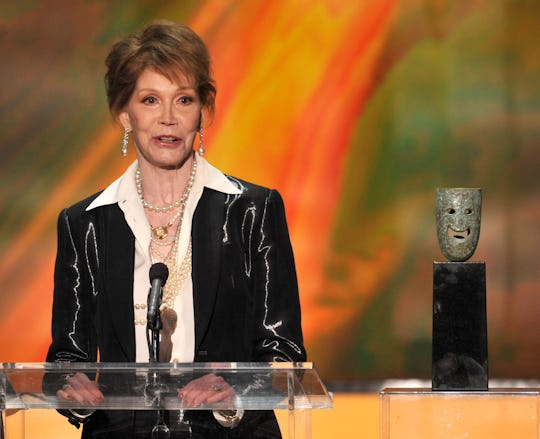 Kevin Winter/Getty Images Entertainment/Getty Images
Actor Mary Tyler Moore Has Died At 80 Years Old
It seems like 2017 plans to follow in 2016 footsteps. First, veteran actor Miguel Ferrer passed away last Thursday at age 61. And now pioneering actor Mary Tyler Moore has died at 80 years old, according to her publicist.
It was announced that Moore, who made history with her groundbreaking show, "The Mary Tyler Moore Show," passed away hours after TMZ reported the performer was in "grave condition at a Connecticut Hospital." According to the Washington Post, Moore's publicist, Mara Buxbaum, disclosed the actor's death in a statement without further detail.
Moore has struggled with health issues for the past few years. in 2011, the Brooklyn native underwent brain surgery to remove a benign tumor. Moore, who turned 80 years old in December, was also diagnosed with Type 1 diabetes at age 33 and has also dealt with alcohol abuse problems, according to the New York Daily News. Since her diagnosis, she served as an advocate for the Juvenile Diabetes Research Foundation, in addition to being a staunch animal rights activist.
Fans and celebrities alike took to social media to remember the Emmy Award-winning actor, who pushed boundaries and challenged stereotypes throughout her nearly 60-year career. Not only did she helped blaze the trail for today's crop of female comics, she also inspired young reporters with her character's tenacity and wit. And, despite the fact that "The Mary Tyler Moore Show" was a sitcom, Moore never shied away from tackling tough topics on her show. The actor and producer often brought feminist issues to people's living rooms, comically and unapologetically.
The New York Times rounded up five essential "The Mary Tyler Moore Show" episodes to watch in the actor's honor. Second on the list is season 3, episode 1, "The Good-Time News," which deals with equal pay. That episode aired 45 years ago, proving that Moore was always ahead of her time.
But Moore didn't only make waves for grappling with social justice issues that are still problems today. The legendary performer also showed shattered stereotypes around single working women. Many took Moore's character, Mary Richards — and even Moore herself — to be a feminist icon.
Moore's strength and resolve on and off screen, and her role at the helm of a female-dominated show in the 1970s made way for what's possible today — even though there is still a long way to go. The sky will be full with hats tonight.