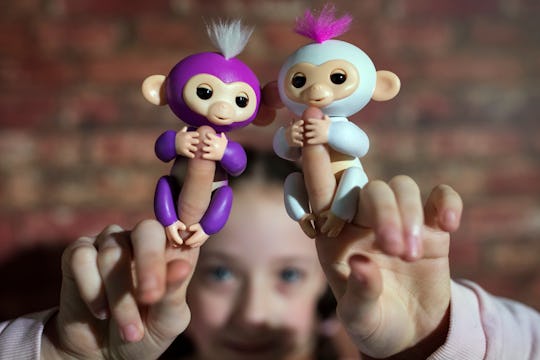 Dan Kitwood/Getty Images News/Getty Images
Actually, I'm *Not* Buying My Kid A Fingerling This Year, & Here's Why
It happens every year — some seemingly random toy gets super popular around the holidays, and it seems like the marked mission of the season is to do whatever it takes to get your hands on one of those. This year is no different, and the most coveted toy on the market right now is the Fingerling — a little robotic monkey that cuddles your finger and blinks its eyes or blows you kisses (among other things, I'm told). Sounds thrilling, right? But, actually, I'm not buying my kid a Fingerling this year, and I have my reasons.
It's a natural part of the ebbs and flows of our consumerist economy that a material good will be the must-have item of the holiday season. We all remember the likes of Cabbage Patch Kids, Tickle-Me-Elmo, Furby, Beanie Babies, and last year's Hatchimals, right? Do we also remember parents trampling each other on Black Friday, scalpers buying up all the stock and selling them at ridiculously marked up rates to parents just wanting to make their kid happy, and counterfeiters taking advantage of the whole situation by selling poorly made knock-offs to desperate families? Really captures the whole spirit of the holidays, doesn't it?
But that's not the only reason I choose not to partake in the Fingerling frenzy. Besides the fact that I haven't bought into the Fingerling craze and can't fathom spending any amount of money on it (I mean, people really want this thing? Can you eat it?), there are bigger issues at hand when it comes to frantic shopping for "must-have" items. Believe me, I'm no holiday martyr that's going to sacrifice my kid's Christmas wishes for the sake of a larger lesson on materialism and the difference between want and need (my boys are going to wake up on Christmas with plenty of wants under the tree), but the larger conversation of right versus wrong does arise.
If these silly monkeys didn't sell out in minutes, if they were available on store shelves or via Prime, maybe I'd be slightly more akin to sticking one in my little one's stocking. Maybe he'd find it cute, or novel, and hey, maybe if the Fingerling conversation came up in school, he could partake (not that, at 4 years old, he really cares to partake). But because these Fingerlings are only available now through third party sellers (which is a really nice way to say scalpers), I refuse to buy in. What does it say about me if I scour the globe and then spend an unsightly amount of money on some silly plastic fad? What does it say about us if we continue to reinforce the same concepts that we attempt to teach our kids to avoid (namely, do the wrong thing and I'll pay you extra for it)?
We all know the holidays are bigger than toys or clothes or the latest electronics, and that, "maybe Christmas doesn't come from a store" — we've all seen How The Grinch Stole Christmas. What we're failing to realize is that our babies know this, too. The magic of the holidays, for them, comes from believing in actual magic — a jolly, old elf, flying reindeer, the birth of a king, or that, somehow, a little bit of oil could last eight whole nights.
We want to give them the world, because they deserve it, but we don't give their character, their resilience, or their goodness enough credit. If a Fingerling fails to show up under the tree, maybe they'd feel a brief tinge of sadness. But, more than likely, they'd be over it quickly, instead reveling in the wonder of the holidays in a way that only children can.
Without attempting to teach my kid anything, I can show him that we can be happy with what we have and what we receive — that joy lives in the spirit of ourselves and the ones we love. And that believing is almost always more important than seeing. I can show him that hope is not something childish that we hold onto — that our inherent belief in goodness and wonder is what brings us to the next day (though, more than likely, it's he who will show me all of these things).
I'll admit, my kid didn't ask for a Fingerling, so I'm off the hook for now. But it's only a matter of time before he begins noticing what other people have in comparison to what he has. It's only a matter of time before he starts asking for things solely because others have it. It's only a matter of time before he realizes that our society values material things as symbols of worth and status, eerily similar to the evolutionary concepts of survival of the fittest. I won't blame him for that — it's natural to compare and want and show, and we all do it.
But, I will blame myself if he grows up believing that is who he has to be because he sees an example in me. So, today, no Fingerling. But, if for some reason, he does tell me he wants one in the future, maybe a silly monkey will show up in his Easter basket, or on his birthday, or on a Tuesday, for no other reason than he deserves it.
That is, assuming that they're back on store shelves come January.
Check out Romper's new video series, Romper's Doula Diaries:
Watch full episodes of Romper's Doula Diaries on Facebook Watch.