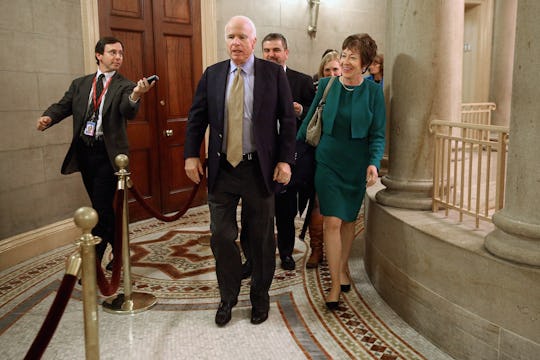 Chip Somodevilla/Getty Images News/Getty Images
Actually, These Two Female Senators Stopped The Obamacare Repeal — Not John McCain
Early Friday morning, three Republican senators narrowly defeated a bill aimed at repealing Obamacare. Yes, three. All the glory went to Arizona Sen. John McCain, though, while opposition from Republican women was reportedly met with threats of physical violence. Why is it that when McCain breaks with party lines, headlines laud him as a "maverick," but when Alaska Sen. Lisa Murkowski and Maine Sen. Susan Collins put their constituents over their party, their colleagues want to assault them?
Last Friday, when asked about the Senate's inability to pass a health care bill during a radio interview, Texas Rep. Blake Farenthold said that if "some female senators from the Northeast" were men, he might "settle this Aaron Burr-style," seemingly referring to the 1804 duel during which Burr murdered Alexander Hamilton, according to CNN. In a follow-up statement on Monday, Farenthold said the comment was "clearly tongue in cheek," but he was "extremely frustrated with Senate Republicans." Though he never called out Collins by name, there are no other Republican female senators from the Northeast.
Collins responded on Monday, saying, according to CNN, "In 20 years in the Senate, I have had a lot of people make suggestions about how to resolve legislative disputes, but until today nobody had ever suggested a duel."
After Murkowski voted against opening the health care bill to debate on Tuesday, Trump tweeted that she'd "really let the Republicans, and our country, down." When asked for his thoughts on the matter, Georgia Rep. Buddy Carter told MSNBC's Ali Velshi, "Somebody needs to go over there to that Senate and snatch a knot in their ass," a regional term for physically beating a person that Slate helpfully explained "often suggests inflicting punishment on a child." Again, he didn't name names, but Velshi specifically asked Carter about "the president going after Lisa Murkowski." The only other Republican who voted no was Collins. A rep for Carter provided the following statement to Romper:
Rep. Carter's comment was in no way directed towards Senator Murkowski specifically. His words speak for themselves that he was not speaking about a single senator. This is a southern phrase used frequently throughout Rep. Carter's lifetime which simply means get your act together.
The latest heath care bill, a so-called "skinny repeal," was unpopular with a number of Senate Republicans. So much so, in fact, that McCain held a joint press conference on Wednesday with Sens. Ron Johnson, Bill Cassidy, and Lindsey Graham, with the latter referring to the bill as a "fraud," a "disaster," and "the dumbest thing in history." In the end, though, Johnson, Cassidy, Graham voted yes, trusting House Republicans to amend it before their own vote.
McCain is being praised by Democrats as the man who "saved" health care. One tweet actually went so far as to say he's "basically Jesus." Murkowski and Collins, meanwhile, who have been voting against the GOP's hastily-crafted ACA repeals all along, have been labeled traitors.
Correction: A previous version of this article stated that former Sen. Kelly Ayotte was still serving and was one of two Republican senators serving in the Northeast (aside from Collins). This is incorrect. Ayotte lost in the 2016 election to Democratic Sen. Maggie Hassan, who voted against the ACA repeal, according to The New York Times. Romper regrets the error.