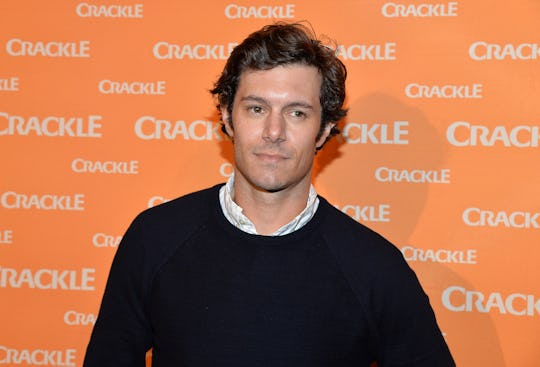 Slaven Vlasic/Getty Images Entertainment/Getty Images
Adam Brody Chose His Daughter's Name Using Ouija & It's Basically The Best Thing Ever
Having previously starred in what might best be described as one of the most popular soap operas for teenagers ever, Adam Brody is officially all grown up, it seems. Now, his fans will be swooning over him in his new role as a Miami financier instead of as the The O.C.'s dreamy Seth Cohen. The part on Crackle's tech drama StartUp is undoubtedly a more mature role for the actor, which is fitting because the 36-year-old now has a young family. That doesn't mean he's lost his youthful charm, though, as evidenced by the revelation that Adam Brody reportedly chose his daughter's name using Ouija. He was (likely) joking when he said it, but that only makes the admission even more endearing.
On Wednesday, Brody hosted a Reddit AMA to promote StartUp, and topics of conversation included his experience as a guest on The Late Show with Stephen Colbert; working with his wife, Leighton Meester, whom you know as Gossip Girl's Blair Waldorf; and his admiration for his fellow StartUp cast members. Then he answered a question about how he settled on the name Arlo Day for this now-1-year-old daughter with just one word. The answer? "Ouija."
We don't really know whether Brody and Meister actually used a spooky Ouija board to consult the spirits about what to christen their firstborn. The mysterious answer, though, is appropriate, considering the couple's noted intense desire for privacy.
The two celebrated their marriage in a super-secret ceremony in February 2014, but they've never spoken publicly about the event. They didn't make any big media announcements when their little Arlo was born the next year, with People reporting a nearly two months after the baby was born in August 2015 that the neither Brody nor Meester had confirmed the pregnancy at the time. Since then, the paparazzi have scored previous few glimpses of the adorable baby (a sigh of relief for hardcore fans everywhere).
But that definitely doesn't mean Arlo doesn't get out and about with her dad. Last week, Brody told People that he and his daughter regularly take hikes together around their home:
I do a nice morning hike with my daughter, that's always a treat. It's something to do in the wee hours of the morning when she's up. It's a good activity for both of us. We hike around our house … watching the sunrise with a kid is pretty fun. I have her in the [Baby] Björn.
Whether Brody teaches Arlo the ancient art of Ouija during those strolls is for them to know, and for us to probably not find out. But he's gifted '00s teens with that sweet hiking image to savor before, during, and after rewatching all four seasons of The O.C., — and now they can cap of the Brody fix by catching the StartUp premiere Sept. 6.