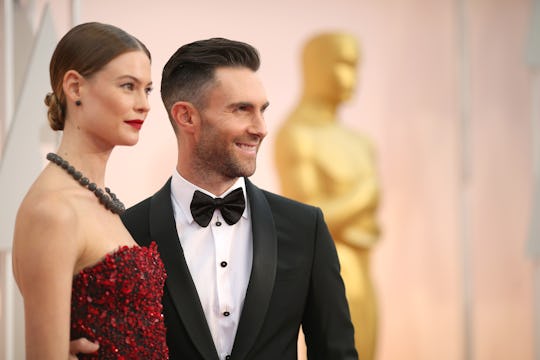 Christopher Polk/Getty Images Entertainment/Getty Images
Adam Levine & Behati Prinsloo Are Expecting Their First Child & Maroon 5 Fans Officially Feel Old
Maroon 5 rocker and Victoria's Secret Angel Behati Prinsloo are practically perfect in every way. They're gorgeous, rich, famous and in case all of that wasn't enough, Adam Levine and Behati Prinsloo are expecting their first baby, and I don't know about other Maroon 5 fans, but I'm officially feeling old.
Those two are obviously crazy in love and have made no secret in the press about their interest in having lots of little Levines and Prinsloos running around their mansion. Levine once told Ryan Secrest in a radio interview that he wanted to "...have more kids than would be socially responsible." Not sure exactly how many kids that might be, but 26-year-old Prinsloo is off to a good start. One thing is for certain — there's no way that kid is going to be anything less than stunningly beautiful.
US Weekly confirmed the model is about three or four months along now and that Levine is obviously "over the moon" about becoming a dad. Aw. Just yesterday pregnancy rumors started swirling about the couple. Hollywood Life reported that the couple had been trying to get pregnant ever since their wedding a year and a half ago, with no luck. An anonymous source said the couple was "disappointed." But today's news about Prinsloo being pregnant seems to have blown that theory out of the water.
One Twitter user came up with a fairly solid guess as to what baby Levine might look like.
What's less clear is how fatherhood might impact Levine's participation on The Voice. Life & Style reported that the 10th season of The Voice, which just started in late February, might be Levine's last to make more time for his wife and baby, according to Hollywood Life.
Levine's come a long way from teenage girl's heart's desire, and from notable hookups including Paris Hilton and Jessica Simpson. Now, he's a 36-year-old husband, father-to-be, and bone fide TV star. Next thing you know, Levine will start sporting dark socks and sandals. Good thing he'll always have the stylish Prinsloo on his arm to keep his worst dad tenancies in check.
Congratulations to the happy couple and I will definitely look forward to a bevy of adorable pregnancy bump red carpet looks from Prinsloo in the months and years to come.