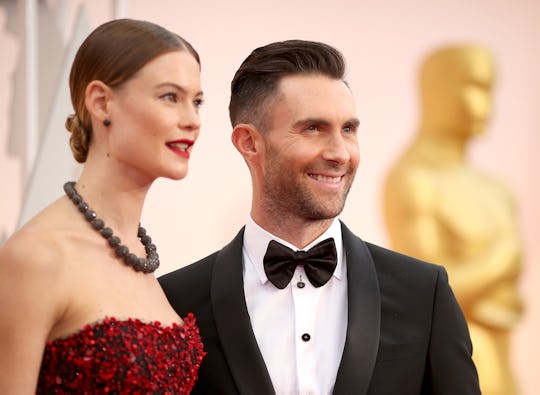 Christopher Polk/Getty Images Entertainment/Getty Images
Adam Levine & Behati Prinsloo Reveal The Sex Of Baby No. 2, & They're So Excited
Adam Levine and Behati Prinsloo announced "round two" of parenthood back in September, and now they'e decided to share whether they'll be adding a son or daughter to their little family. The model mama and singer daddy — who are already have a 1-year-old daughter, Dusty Rose — apparently spilled the beans during an appearance on The Ellen Degeneres Show. On Tuesday, Adam Levine and Behati Prinsloo revealed the sex of baby number two, and it's a ... GIRL!
"It's a girl, we're having another girl," Levine, 38, told DeGeneres, according to People. That makes two little girls for the famous couple — who married in 2014 in San José del Cabo, Mexico, after getting engaged the previous year. While discussing the deets of his wife's second pregnancy, Levine shared that Prinsloo seems to be handling it like a champ. "She's awesome," he said. "She's the champion of the world. You wouldn't know that she's 7 months pregnant."
Prinsloo made her second pregnancy official on Instagram on Sept. 13 with a simple bump shot, captioned with a couple of words that said it all: "ROUND 2 ..." With this limited information, no one was really sure how far along Prinsloo was at first. However, thanks to her husband's remark about Prinsloo being seven months pregnant, we can now approximate a due date. By my expert calculations, that would put her due date at the end of January or the beginning of February.
And it only makes sense for Levine and Prinsloo to make big baby announcements with Ellen's help. If you remember, she was the one who ended up naming their first daughter.
"I saw a rose and I thought of Rose, and then I heard the name 'Dusty Rose' and thought, 'That's a beautiful name.' And then I sent that to you and you're like, 'That's the name,'" DeGeneres said, according to E! Online. Naturally, the comedian is more than willing to provide naming assistance this time around. "It'll be a collaborative effort," Levine said. "We're already working on it."
DeGeneres continued:
Just to say that I named one of your child is not a big story but to name both is a big story.
I wonder what DeGeneres has up her sleeves this time? Rainy Skye? Dewey Tulip? Meh. Maybe it's best to leave the naming up to Ellen.
Levine and DeGeneres also spoke of Dusty Rose, who will soon earn the title of big sister. "She's so sweet. She's like a little Zen baby, she's so quiet,'" the talkshow host said. "Which is funny, 'cause her parents, we're like maniacs," LeVine replied. "And she just kind of calms us down."
Levine went on to explain that both he and Prinsloo would love to add even more to their family, eventually. The Voice coach told DeGeneres:
I want a lot [of kids], I thrive in chaos. She was an only child, so she wants like 100 babies. I don't know if I can do that. That's a lot of babies.
Levine seems genuinely happy, and fatherhood suits him well. But 100 babies?! LOL. Let's see how he feels after two.
In my experience, I think the transition from zero to one kid was the most difficult. With that said, when I went from one to two children, I definitely had to up my multi-tasking game. Keeping an energetic toddler from destroying the house/hurting himself while tending to a newborn who relies on you for their every need — all while running on just a few hours of broken sleep — is no easy feat. Add a third kid into the mix, and then you're outnumbered. Enter: Zone defense mode.
In all seriousness, though, if Levine really does thrive on chaos, maybe being a parent to multiple kiddos won't come as such of a shock. Good luck, man. And congrats on the upcoming addition of another baby girl!