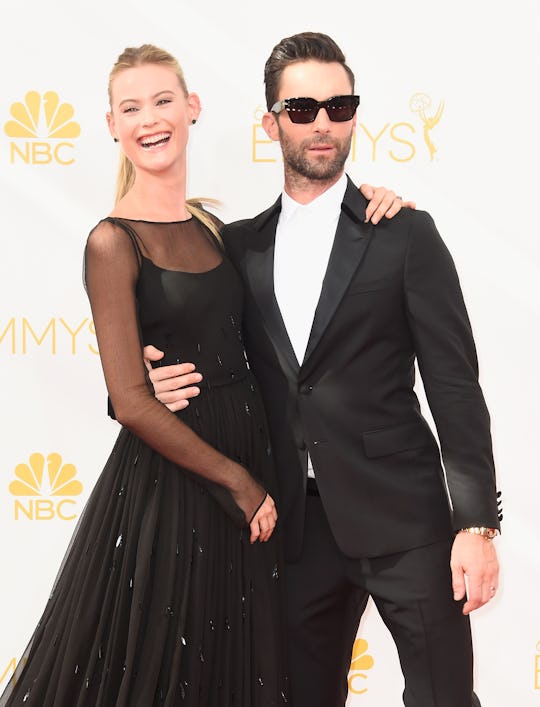 Frazer Harrison/Getty Images Entertainment/Getty Images
Adam Levine & Behati Prinsloo Share The First Photo Of Baby Gio & It's *So* Cute
Gio Grace Levine came into the world one week ago, on Feb. 15, 2018, and now she has made her big social media debut thanks to her parents. According to E! News, Adam Levine and Behati Prinsloo shared the first photo of baby Gio and it couldn't be cuter. The photo was posted on Prinsloo's Instagram on Wednesday and it was simply an adorable photo of little Gio's tiny toes. "Gio Grace Levine 2/15/18. She's got her dads toes," Prinsloo captioned the sweet shot.
The couple's first daughter, Dusty Rose, was born in September 2016, and now little Dusty is a big sister. According to Billboard, Dusty's sisterly duties may kick in sooner than she thinks, with her dad going out of town in just one week. Levine is reportedly going on tour with his band Maroon 5 on March 1 to promote the group's latest album, Red Pills Blue. And, in a few weeks, Levine will be appearing live on The Voice. So, his calendar is pretty full.
It'll certainly be tough to be away from his adorable newborn for so long (just look at those toes!), but it's safe to say that Prinsloo and little Dusty will hold down the fort just fine and the new mom will likely send Levine plenty of cute updates or even visit him with their little ones along the way.
Levine told People, in 2014, that he wants to have a huge family, revealing that, "I want to have 100 kids. I want to have more kids than is socially responsible. We can't do it right now, but it's in the works." Just four years later and Levine has two little girls. The doting dad, according to Extra TV, also stated on The Ellen Show that wife Prinsloo also wants to have a lot of kids because she grew up as an only child.
When the couple had their first baby together in 2016, Prinsloo told People that it was surprising to her that she could love someone so much. Prinsloo explained:
I love Adam, and when you get married and you fall in love with someone, you think that there's no greater love than that love. And then you have a baby, and it's just next-level love ... You think there's a limit to love — like, "This is the thing that I love the most" — but honestly, I think what surprised me most is how intense that love is, and also how hard, at times, it is.
Last year, Levine received his star on the Hollywood Walk of Fame, with his friends and family at his side. In his acceptance speech, Levine took a moment to recognize his baby girl Dusty Rose and his wife, saying:
I have a daughter, I have the most beautiful wife in the entire world. I am one of the luckiest people who has ever lived, and it has nothing to do with me. It has to do with the people who love me the most.
To skip to the sweet moment, start watching the video of Levine's Walk of Fame ceremony at the 23:09 mark.
Adding another daughter into the family, Levine is probably feeling even luckier than ever. Previously, Elite Daily reported that Levine talked up his first born, Dusty Rose, to Ellen DeGeneres, gushing:
She's like a little zen baby. She's so quiet! Which is funny, 'cause her parents ... we're like maniacs.
Hopefully, baby Gio is a quiet little girl as well. Soon, those cute little toes of hers will be running wild, trying to keep up with her parents.
Check out Romper's new video series, Bearing The Motherload, where disagreeing parents from different sides of an issue sit down with a mediator and talk about how to support (and not judge) each other's parenting perspectives. New episodes air Mondays on Facebook.