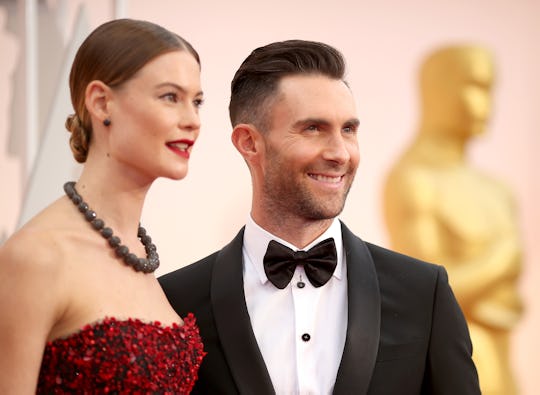 Christopher Polk/Getty Images Entertainment/Getty Images
Adam Levine & Behati Prinsloo Welcome Their 2nd Child, & Her Name Is Really Beautiful
It's time to break out the double stroller for one celebrity couple. Adam Levine and Behati Prinsloo welcomed their second child, and she's easily got one of the most unique baby names I've heard of in awhile. They've named their new baby daughter Geo Grace Levine, according to E! News, and it certainly pairs well with the name of their other child, Dusty Rose.
The couple has not announced the baby's birth date or any other information. If Geo's parents are just taking some time to get to know their new little girl and to get used to their expanded family without getting too involved in the PR of it all, good for them.
Levine, the frontman for Maroon 5, and Prinsloo, a model, first announced they were expecting their second child in September, according to E! News. Prinsloo announced that she was expecting again on her Instagram account, with a photo of herself showing off her baby bump and a caption that simply read, "ROUND 2.....," according to People. Since then, she's treated fans to a couple more "bump" photos on Instagram over the past few months as her pregnancy progressed.
Not long after the big news was announced, a source told Us Weekly in October:
Adam and Behati cannot wait for their second child. Adam is literally the happiest ever.
After letting the world know that he and his wife were expecting again, Levine reportedly told talk show host Ellen DeGeneres that the second baby was a girl, E! News reported. And it sounds like even then, he and Prinsloo were making plans for more kids in the future. At the time, he told DeGeneres:
I want a lot [of kids], I thrive in chaos.
Levine also added that his 28-year-old wife feels the same. He said of Prinsloo, according to E! News:
She was an only child, so she wants like 100 babies. I don't know if I can do that. That's a lot of babies.
But even if they don't have 100 babies, it doesn't sound like Geo will be the last one Levine and Prinsloo welcome, by far.
Levine is also no stranger to showing off on Instagram when it comes to this latest pregnancy. Although Prinsloo had more bump photos on her account in general, Levine did recently share a photo of his wife on the social media platform for Valentine's Day that had her "bump" on display. He captioned it, "My maniac.," with a ton of emoji hearts, because that's what you do to celebrate Valentine's Day, right?
Levine and Prinsloo's other daughter, Dusty, is now 16 months old, according to People. They welcomed their oldest child in September 2016, and hopefully she's very excited to meet her new baby sister. If not, well, she's gonna have to get used to it, because presumably, Geo is there to stay.
When Prinsloo and Levine had their first baby, Levine admitted to Ryan Seacrest that he didn't "know anything" about being a parent, But he seemed up for the task. He said, according to Entertainment Tonight:
But it's kind of part of the beauty of it, honestly. There are a lot of instincts, a lot of things that kind of kick in and switch on. It's a beautiful experience.
And any parent of more than one kid will tell you that welcoming a second (or third, or fourth) child is a whole different experience compared to having a child for the first time. But as long as Prinsloo and Levine keep doing what they're doing — raising healthy, happy kids — they should be just fine.
Check out Romper's new video series, Bearing The Motherload, where disagreeing parents from different sides of an issue sit down with a mediator and talk about how to support (and not judge) each other's parenting perspectives. New episodes air Mondays on Facebook.