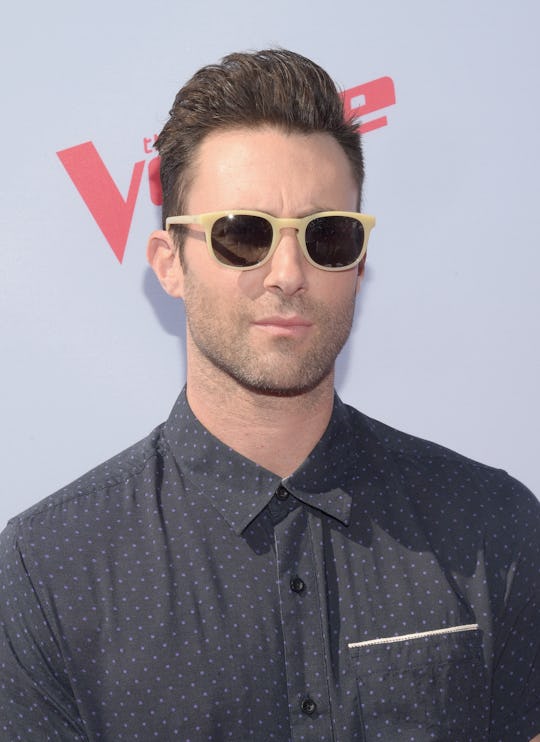 Jason Kempin/Getty Images Entertainment/Getty Images
Adam Levine Posts Family Instagram & Makes Everyone Feel A Little Bit Better For A Moment
Adam Levine can be a little cheesy sometimes, but sometimes cheesy is exactly what people need to crack a smile when times are tough. On Monday, Adam Levine posted a family Instagram photo, and it's just the kind of picture that can help you remember what's really important in life — even during an election and presidential transition season that seems to have everyone wringing their hands and wondering about the future. The Voice judge and Maroon 5 frontman posted a pic of himself with his wife, Behati Prinsloo, and their infant daughter, Dusty Rose, on the beach, with a caption that reaffirmed life's simple pleasures.
In the image, Levine holds a cup of coffee in his hand and the trio contemplates the ocean (alright, the baby is buried under a blanket, but for sure she was taking in that salt air). "Everything I need is right here. (Beach optional)," Levine wrote in the caption.
After the past week of dealing with election news and its subsequent fallout, it's not a bad thing to go to your happy place once in a while — whether that's with your family on a pretty beach or talking amongst like-minded people about how you feel. Whatever makes you feel all warm in fuzzy inside works. The beach, your fam, and a good cup of coffee? Talk about #GOALS.
Levine and Prinsloo welcomed Dusty in early September, so they've for sure had the best — and craziest — two months of their lives. A little quiet on the beach is surely needed. Before naming their daughter, though, Prinsloo and Levine had a super tough time trying to name her. Levine said on The Ellen Show, "We had a name that we won't mention on television. The name game is a tough game."
He went and likened it to writing a song, which might the most adorable thing I've ever heard. "It's a very hard, arduous [game]," he said. "Imagine you're writing the best song you've ever written in your life and you have to name it. It's really screwed up to actually have to put yourself through that."
But then! It turns out that they had a good idea and Levine actually sent it to DeGeneres (btw, Ellen, if you're reading, can I get your number to receive random and life-changing advice? K, thanks!). She totally nixed what Levine and Prinsloo had come up with and told them to go with Dusty Rose instead. And so, little baby Dusty was named by Ellen DeGeneres, which is a bigger and better claim to fame than anything else probably.
So Levine has a super cute story about naming his lovely daughter and had a super chill weekend. Can we all hang out soon?