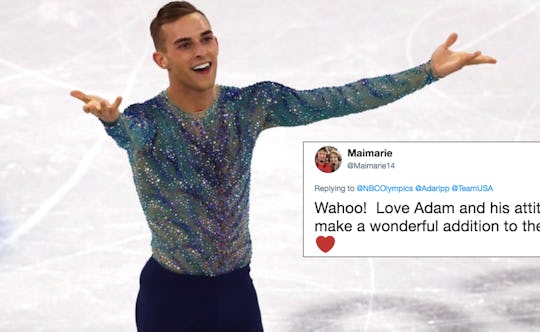 Dean Mouhtaropoulos/Getty Images Sport/Getty Images
Adam Rippon Is Now An Official Olympics Correspondent & Twitter Is SO Here For It
The Winter Olympics are starting to wind down, and as sad as that is, there's still some amazing stuff to watch in the coming days. Although he's wrapped up all of his events at his first Olympics, Adam Rippon is now an official Olympics correspondent and Twitter is so here for the addition.
Update: In a series of tweets on Sunday night, Rippon shared with fans that he will actually be declining NBC's opportunity. He said, "I am flattered that NBC wanted me to work as a correspondent for them here in PyeongChang. Doing this would require me to leave Team USA and move out of the Olympic Village. I don't want to do that so I had to declined the opportunity."
Earlier: Indeed, Rippon, a.k.a. the shining light in PyeongChang at this year's Winter Games, isn't done getting his screen time. As USA Today reported, the 28-year-old figure skater "will work for the network on a variety of platforms, including television, digital and social media." So even though his time at the 2018 Winter Olympics has come to a close, fans of Rippon will be able to continue to watch him dazzle us all on our TV screens.
Up until now, Rippon has been performing his heart out during the figure skating competitions. He even took home a bronze medal for Team USA and he placed 10th in the men's free skate competition, according to NBC Olympics. Basically, the openly gay 28-year-old American treasure isn't going anywhere, and thank goodness. He's talented, he's kind, and his energy is palpable. So, when it was announced that he would be joining the NBC team as a correspondent, everyone on Twitter screamed a collective "YAAAAS!"
Firs Of All, The One & Only Britney Spears Is Leading The Movement
Y'all, I'm sorry, but if Britney Spears is a fan of something, then it's basically guaranteed that it's worthwhile. So when Spears took to Twitter to announce that she was also totally obsessed with Rippon, it meant that even more people would likely come to realize how awesome he is.
So obviously, when his new job was announced, people were rightfully excited.
Twitter Is Stoked
Obviously, Rippon is adored by so many and knowing that his legacy would continue was met with the utmost excitement.
Because Rippon Is Outspoken, His New Job Was An Inspiration For Many
Rippon came out in October 2015 and has since become a pretty important role model for young athletes everywhere, showing them that they can be whoever they really are. After his final performance Saturday night, Rippon took the opportunity to speak about his platform. "I have gotten a lot of attention just for being myself," he said, according to USA Today, adding:
A lot of people when they come to a competition are afraid to be themselves, no matter who they are. One thing I want to come with from this competition — I am not a gay icon or America's gay sweetheart. I am just America's sweetheart and just an icon.
Now that Rippon has been chosen to still be in the public eye, well, let's just say that people are so thrilled.
But that's not all. With the news of Rippon's new role, Twitter users had even more ideas for how he could continue to shine his light.
People Want *More* Adam Rippon
With his awesome sense of humor and authentic energy, obviously people want to be able to see Rippon being his true self in as many formats as possible. Whether it be as an Olympic correspondent or figure skating and singing to Rihanna, Rippon is a true American treasure.
These tweets are onto something; the idea of Rippon appearing on Dancing With The Stars, based on his skating skills and existing athleticism, really would be perfect. But really, because he's so funny and relatable, his new gig at NBC is truly fitting.
For now, it seems as though fans will just have to get by with Rippon acting as a correspondent for NBC. But who knows? Maybe one day he'll be dancing on live TV or sitting next to Ellen DeGeneres talking politics and celebrity news. Wherever his career goes, his fans will follow.
Check out Romper's new video series, Romper's Doula Diaries:
Watch full episodes of Romper's Doula Diaries on Facebook Watch.