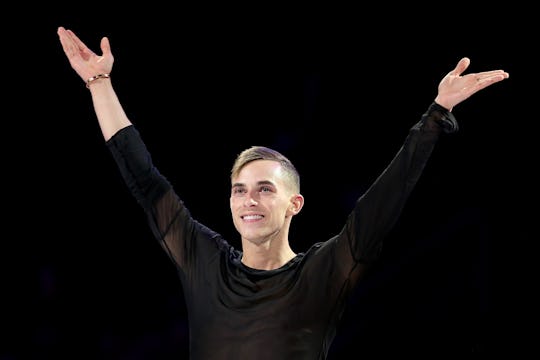 Matthew Stockman/Getty Images Sport/Getty Images
Adam Rippon's Instagram Proves This Winter Olympics Figure Skater Loves To Have Fun
There are so many Olympians that it's hard to really get to know them all. However, thanks to social media it's a little bit easier to learn more about the incredible athletes heading to the Winter Olympics this year. One of those athletes is Adam Rippon, a male figure skater who's going to the Olympics for the very first time. At 28 years old he's the oldest American rookie to go to since 1936, but there's more to him than just figure skating. Adam Rippon's Instagram proves this Winter Olympics figure skater loves to have a good time.
Besides being the oldest American rookie to compete in the Olympics this year, Rippon was also the first openly gay American to qualify for the 2018 Olympic team. Gus Kenworthy, a skier, become the second a few weeks later when he qualified for the U.S. Olympic ski team. Rippon is already making a lot of history just by qualifying for the Olympics this year, but fans are, of course, hoping this is only the beginning for him. It'd be great if he leaves the Olympics with at least one medal, preferably in gold. However, he does have some tough competition and he'll have to work hard to ensure he stands up on that podium.
Still, just because he works hard doesn't mean Rippon can't also have a little bit of fun in his down time. Check out these Instagram posts to see what Rippon does when he's not training for the Olympics.
He's a Fan of RuPaul's Drag Race
Rippon had the opportunity to meet Daniel Donigan, who's best known by the stage name, Milk. Milk was a contestant on Season 6 and All Stars 3 of RuPaul's Drag Race and is a figure skater as well, though maybe not at the Olympic level that Rippon is.
He Loves Messing Around With His Teammates
Going to the Olympics with Rippon are 18-year-old Nathan Chen and 17-year-old Vincent Zhou. Pictured above are Chen and Rippon recreating an old Christmas photo Rippon's mom posted on Instagram and tagged Chen in because one of Rippon's brothers' doesn't have an Instagram and she wanted to "tag everyone." Classic mom behavior.
He Loves Spending Time With His Mom
If the above story didn't clue you in, Rippon and his mom, Kelly, are quite close. Rippon shared this cute pic of them together to celebrate her birthday, and also likes to share his own throwback pics of them together from time to time.
He Loves To Travel
Unsurprisingly, Rippon gets to travel a lot because of his figure skating. Here he is enjoying his time in Osaka, Japan. It's also worth noting he hilariously captioned this pic, "Me with the love my life (myself)."
He Enjoys A Good Hike
Although it doesn't look like he's hiking in this image, Rippon enjoys taking his exercise outside of the ice skating rink from time to time. Here he is at the Devils Bridge Trail in Sedona, Arizona.
He's Besties With Fellow Figure Skater Ashley Wagner
There's one person you'll find popping up often on Rippon's feed, and that's former Olympic figure skater Ashley Wagner. The two have been best friends for years, and Wagner was even there when Rippon found out he'd be going to the Olympics, a bittersweet moment since just the day before Wagner learned she wasn't. Still, the two are totally supportive of each other, and obviously love to have fun together, on and off the ice.
Now that you've got a little look into what Rippon does when he's not skating, you can see how great he is when he is on the ice. The 2018 Winter Olympics in PyeongChang, South Korea kicks off on Friday, Feb. 9 with the Opening Ceremony. Make sure to check your local listings to see when the male figure skating competitions begin.
Check out Romper's new video series, Romper's Doula Diaries:
Watch full episodes of Romper's Doula Diaries on Facebook Watch.