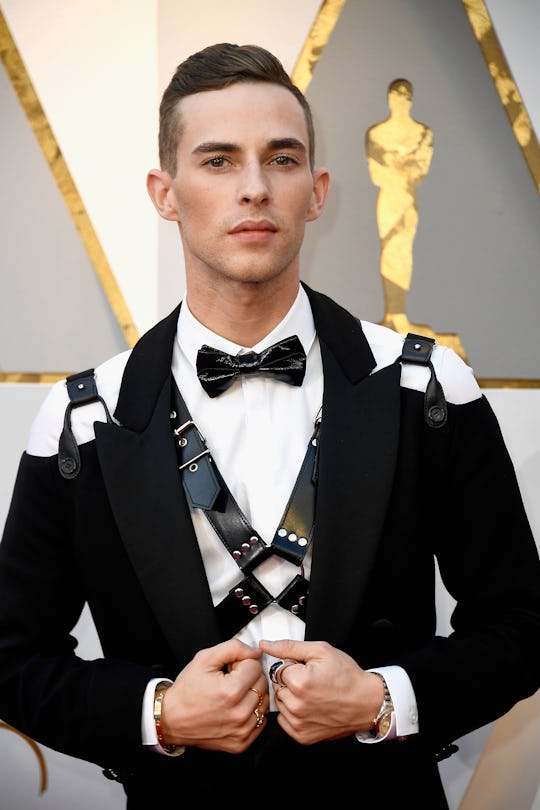 Frazer Harrison/Getty Images Entertainment/Getty Images
Adam Rippon Made A Bold Outfit Choice At The Oscars, & He's Slaying The Red Carpet
There were a lot of fantastic things that came out of the 2018 Winter Olympics, but by far my favorite is Olympic figure skater Adam Rippon, who has basically taken over all of pop culture by being his unapologetic, amazing self. If you needed any more proof that he is the icon we need, take a look at what he wore to the Academy Awards. Adam Rippon's Oscars outfit is putting everyone else to shame. We are not worthy.
Rippon announced on his Instagram story on Wednesday that he and fellow Olympic figure skater Mirai Nagasu were invited to the awards as guests of Access Hollywood. He said he couldn't wait to go (obviously) but *I* couldn't wait to see what he was wearing and what he would say on the red carpet. But I was not prepared for Rippon to step out in a deconstructed tuxedo with a literal harness and a leather bow tie designed by Jeremy Scott. Most men tend to play it pretty safe with their sartorial choices at the Oscars, with a few notable exceptions. Then Rippon appears and reminds everyone that fashion is fun and that he did not come to play around. I want him to be my life coach.
Unsurprisingly, Twitter had a lot to say about Rippon's bold look, which looked a lot like a winking shout out to gay leather kink and fetish communities. And why shouldn't the Oscars be a little sexy and fun, right? Rippon has proved, from the moment he burst onto the national stage, that he's not afraid to make a statement and be inclusive and challenge what is conventionally celebrated and/or accepted. He's also proved that he's hilarious and probably a ton of fun to be around. I adore.
I will be honest with all of you, I did not watch much of the Olympics this year. I did, however, start following Rippon on Twitter and let me tell you I do not regret that decision in the slightest. Rippon first started getting attention for his hilarious tweets back in December. One of my favorites was when he wrote, "I was recently asked in an interview what its like to be a gay athlete in sports. I said that it's exactly like being a straight athlete. Lots of hard work but usually done with better eyebrows."
Then on the Today show, he said, "One time, somebody said, 'You talk a lot about your eyebrows' —and first of all, throughout this whole process I've never talked about being gay or my eyebrows so much in my entire life."
One of his most famous (and hilarious) interviews came when someone asked him how he got to the Olympics at an age when most professional athletes are nearing the end of their careers (he's 28). Without missing a beat Rippon replied, "I can't explain witchcraft." If there was ever a human being who was designed by god for red carpet interviews, it is Adam Rippon, a truth only bolstered by the outfit he chose to wear to arguably the biggest Awards show in the world.
My biggest hope for Rippon at the red carpet is that he gets to hang out with Reese Witherspoon, who he has mentioned more than once is his hero. "There are so many emotions when I step on the ice. I want to represent my country to the best of my abilities. I want to make Reese Witherspoon proud," he said in an NBC interview. So basically, I need them to meet at the Oscars and become best friends and swap fashion tips. Clearly they have a lot to discuss.
Check out Romper's new video series, Romper's Doula Diaries:
Watch full episodes of Romper's Doula Diaries on Facebook Watch.