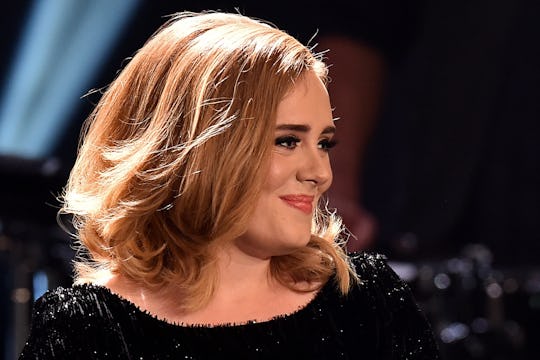 Adele Announces '25' North American Tour, & We're All Freaking The Hell Out
Not only did Adele bless us with the truth when she debuted her red-hot "Hello" and "When We Were Young" singles at the tail-end of fall, but now the Queen of Heartbreak has done it again. Earlier this morning, Adele announced a North American 25 tour, which, if you have yet to take a sip of your sweet, sweet coffee, means that Adele is coming to the U.S.A., Canada, and Mexio City. YOU. GUYS. I don't even care if this is Adele's party, I'm still gonna cry if I want to! (And for the record, I'm not crying; you're crying.) The tour marks Adele's first major tour of North America in five years, and she'll officially hit the road summer of 2016, which is like, just around the riverbend, y'all, so let's just go ahead and cancel Christmas because the true American holiday doesn't begin till Adele lands.
According to her website, Adele's tour will begin on July 5 in Minnesota, and I don't know about you, but there is nothing more American than wrapping up my Independence Day celebration than screeching alongside with my favorite heartbreaking-singing Brit who knows the song of my heart better than I do. (For the record, she'll sound ***flawless; I'll be screeching.) The tour also includes six (SIX!) shows in New York City at Madison Square Garden, so we might as well just cancel work for the week, OK? Tickets go on sale on December 17 at 10 a.m. CT, which means they'll be live on the East Coast at 7 a.m. (Prep your late-to-work excuse now, guys.) Not to add to the pressure, but the European leg of her tour (which takes place before she heads west) has already sold out, so if you're hoping to snag a seat when she comes Stateside, good luck.
Adele will have shows all throughout the United States, beginning on the 5 of July and lasting until November 15. Show stops will include all the major cities — New York, Los Angeles, Nashville, Boston, Atlanta, Miami, etc. — and she'll also make stops in Canada as well as Mexico City.
Twitter, naturally, had a lot of feelings following the release.
Image: Sascha Steinbach/Getty Images