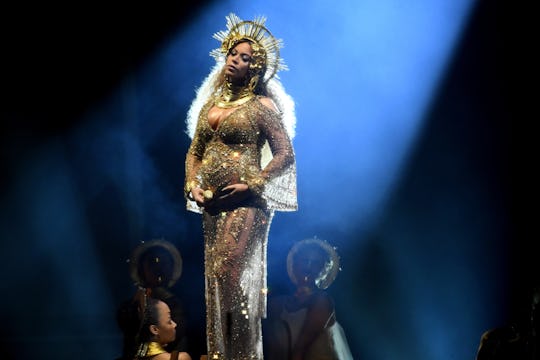 Kevork Djansezian/Getty Images Entertainment/Getty Images
Pitting Adele & Bey Against One Another Is Wrong
The Grammy Awards' highest honor is Album of the Year, which in 2017 went to Adele for her album 25. Under normal circumstances, this would be celebrated — Adele is a powerhouse female vocalist. However, these weren't normal circumstances. Adele was up against Beyoncé's tour de force visual album Lemonade in that particular category, and she'd already beat her out for Record of the Year and Song of the Year, too. But the two women managed to prop each other up at the ceremony, proving that we shouldn't pit Adele and Beyoncé against each other either.
Look, the Recording Academy has obviously struggled with awarding deserving black artists the honor of Album of the Year for the past several years running. In 2016, Taylor Swift's 1989 beat out Kendrick Lamar's critically acclaimed To Pimp A Butterfly. In 2015, Beck's Morning Phase beat out Beyoncé's unapologetically feminist self-titled album. And in 2014, Daft Punk's Random Access Memories beat out Kendrick, yet again, for Good Kid, M.A.A.D City. It's a systemic problem reaching a critical mass, much like the Oscars did before #OscarsSoWhite finally forced the Academy of Motion Picture Arts and Sciences to take some accountability for its lack of diversity.
What makes the lily white lineup for the past few Album of the Year winners at the Grammys so heartbreaking is that they often win for appropriating styles of music rooted in black culture, while black artists are ignored for their contributions. In fact, the last black woman to win Album of the Year was Lauryn Hill in 1999. That's almost twenty years that we've gone without a black woman winning. And if Beyoncé's effing Lemonade can't do it, then who can? But these systemic issues are not the fault of Adele and they certainly aren't the fault of Beyoncé.
In fact, although Adele graciously and gratefully accepted Record of the Year and Song of the Year, she did her best to distance herself from the Album of the Year award during her acceptance speech, dedicating most of her time to Beyoncé instead. For a minute, it looked like she was going to drag Bey up onto the stage and force her to accept the award in her stead.
Said Adele:
"I can't possibly accept this award, and I'm very humbled and I'm very grateful and gracious. But my artist of my life is Beyoncé and this album for me — the Lemonade album — was just so monumental, Beyoncé, it was so monumental, and so... well thought out and soul bearing, and we all got to see another side to you that you don't always let us see and we appreciate that and all us artists here f*cking adore you. You are our light. And the way you make me and my friends feel — the way you make my black friends feel — is empowering, and you make them stand up for themselves and I love you. I always have, and I always will."
For her part, Beyoncé looked nothing but moved when the camera cut to her during the speech, placing her hand on her heart and mouthing "thank you" through tears to her adversary, who was speaking right to her. Beyoncé had and still has every right to feel furious over and jilted by the outcome. So do her fans. But Adele isn't the reason why she lost; white supremacy is. And so Adele doesn't deserved to get dragged.
The people who put the award in her hand — or more specifically, have been ripping it out of the hands of black artists year after year — do. So instead of starting an Adele vs. Beyoncé war on behalf of these women we love, let's follow their example and revere them both, while smashing the system that will always, unjustly, favor one over the other.