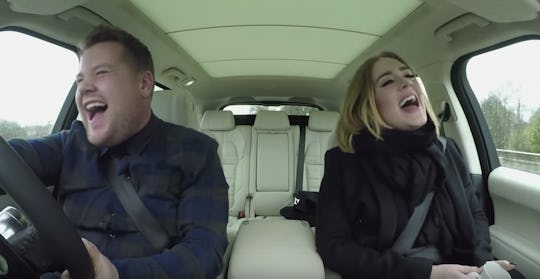 Adele Is Doing 'Carpool Karaoke' With James Cordon, So Prepare Your Tissues
For any Adele fan, the ultimate daydream might be the one where they get to sing along with her to her greatest hits during one long, fantastic, weepy car ride. Well, it seems dreams really do come true. On Monday, late night talk show host James Cordon told his viewers that British singing sensation Adele will appear on "Carpool Karaoke" for The Late, Late Show, according to Entertainment Weekly. As a teaser, Cordon and his team released a one-minute video preview of the bit on YouTube, and it's simply amazing.
"Hello. It's me," Cordon says on his cellphone in the video. "I was wondering if after all these years you would like to meet?" Cordon says the infamous lines while sitting in a car and waiting for his guest. Cordon is sitting on the right hand side, so odds are he and Adele taped the segment somewhere in the U.K. Then, the moment all Adele fans dream of happens: Adele is sitting beside Cordon, singing the chorus to "Hello" as he's driving along, clearly doing his best karaoke version of her hit.
The clip teases karaoke versions of both "Hello" and "Rolling In The Deep," along with plenty of funny moments between Cordon and Adele. At one point the singer asks for advice on whether she should wear a wig or weave — and Cordon is clearly the wrong person to ask.
Cordon's fantastically popular "Carpool Karaoke" segment never fails to deliver. It all started with Cordon singing with guest Mariah Carey in a car when he began hosting The Late, Late Show with James Cordon in March 2015. Since then, Cordon has hosted jam sessions with some of the best voices in the business, including Justin Bieber, Carrie Underwood, Rod Stewart (Stewart sang with A$AP Rocky, because why wouldn't Rod Stewart be singing with A$AP Rocky?), Stevie Wonder, and Jennifer Hudson.
According to Entertainment Weekly, Cordon's "Carpool Karaoke" segments routinely top 10 million views on YouTube. But the real question is: will Adele's segment topple Justin Bieber's record 48 million view? If fan reaction on Twitter is any indication, the segment is likely to see a significant boost from Cordon's typical figures.
The full clip of Cordon's singing session with Adele will air during The Late, Late Show with James Cordon on Wednesday night. That gives fans plenty of time to prepare emotionally. Because singing Adele in a car and trying not to cry will likely bring back memories for so many fans.
This is going to be so good.
Image: The Late Late Show/YouTube (2)