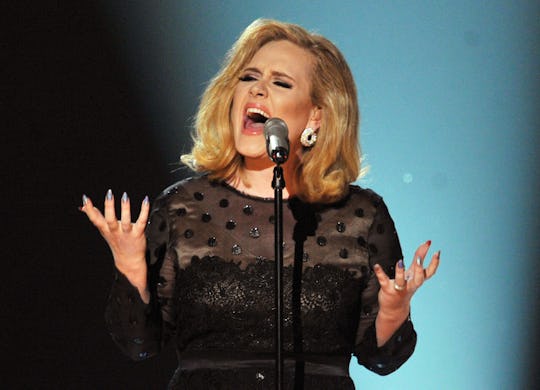 'Adele: Live In New York City' NBC Special Made The Entire Internet Cry
"Hello from the other side." NBC aired Adele's first New York concert Monday night, and the fan reactions to Adele: Live in New York City were, well, effusive is an understatement. The Radio City Music Hall performance marked a major milestone for the singer. According to Vogue, it was Adele's first show in four years. The special followed the release of her newest album, 25, packed with songs that are already hits (including "Hello" and "When We Were Young") and the announcement earlier Monday of Adele's North American tour dates. According to Billboard, "'25' sold 5.19 million copies in the United States in its first three weeks." The album has been at the top of the charts since its release, breaking the record of her 2011 album, 21.
The concert offered the sultry, minimalist charm Adele is known for. Wearing a sequined dress and rocking her signature hairdo, the singer shared new favorites while still giving a nod to her past with performances of "Someone Like You," "Rolling in the Deep," and "Skyfall." She also showed her signature humor and down-to-earth style, kicking off by telling the audience, "This is going to be on TV so don't pick your nose," and kicking off her shoes to really get comfortable and throw herself into the thing. But the concert also took on a solemn note when Adele dedicated it to the victims of the Nov. 13 Paris attacks. She taped the concert just four days after the terrorist siege that claimed 130 lives and injured hundreds more. The last song of the night was "When We Were Young" from 25, and unsurprisingly, she killed it.
Here's how fans reacted throughout the show and after:
When the concert started, everyone was already feeling the emotion.
Fans fell in love with her look...
...and with her personality.
"Someone Like You" was a standout performance.
And "Rolling in the Deep" closed the night with some serious nostalgia.
Vogue predicted our downfall...
...and it came to pass.
The final fan assessment:
Image: Kevin Winter/Getty Images Entertainment