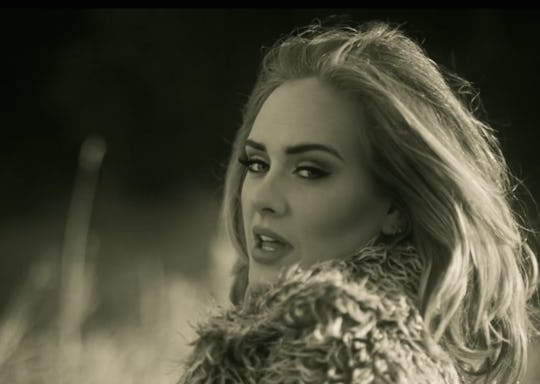 AdeleVEVO/YouTube
Adele Performed "Hello" In Paris At The NRJ Music Awards & Made Us Fall In Love With The Song All Over Again
Why hello there, Adele: How we've missed you these last few years! (And how absolutely obsessed we've become with your latest single.) On Saturday, Adele performed "Hello" at this year's NRJ Music Awards in Paris (think the Grammys, en français) and — swoon! — it's a positively sumptuous performance that reminds us all of why we love Adele so much in the first place. Adele sings "Hello" with such a stoic, soulful conviction that her song practically punches you in the gut with its gorgeousness. But hey, that's no big surprise. We've all been listening to it (and silently crying at our desks) on repeat for the last few weeks — which is probably why the "Hello" video has gained some 270 million views on YouTube alone since Oct. 22.
Adele's return to the music scene comes after a long three-year hiatus since her last hit debuted — "Skyfall," from the James Bond film of the same name. If you can believe it, it's been a whopping four years since she last released an album. In that time, she's become a proud mama: Adele welcomed her son Angelo with her partner, entrepreneur Simon Konecki in October 2012. But now, she's back — and better than ever. "Hello" has shattered records with its release last month, and along with her crazy-high YouTube views, it also wracked up 27.7 million views on Vevo within its first 24 hours. Since then, Adele's latest hit has garnered almost ten times the number of views. 
The UK singer's appearance at the NRJ Awards in Paris on Saturday marked her first live performance of "Hello" since its October release. Draped in a stunning black eyelash lace bodice dress, Adele owned the stage. Need a refresher on how amazing this song is? Here you go:
*socks knocked off*
It's been way too long, Adele. So glad to have you back.
Better set your DVR: You can watch Adele sing "Hello" live as the Saturday Night Live musical guest on November 21.