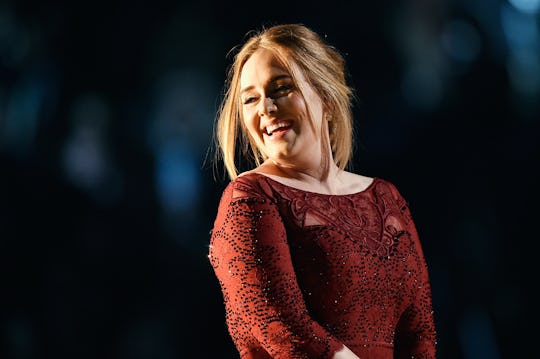 Kevork Djansezian/Getty Images Entertainment/Getty Images
Adele Spoke Out Against Breastfeeding Pressure & Captured Moms' Frustration Perfectly
When chef Jamie Oliver started talking about breastfeeding, he probably didn't expect to pick a fight with a pop superstar. Adele spoke out about the challenges of breastfeeding, and she managed to put into words how so many moms feel. Because, really, no one should tell moms what is best for them. (Those conversations should be reserved for doctors, you know.)
Oliver, a major supporter of healthy lifestyle changes, went on LBC Radio to talk about the importance of breastfeeding, according to The Huffington Post UK. He said that women in Britain need to be empowered to breastfeed often and anywhere:
We have got a problem with it. And if you think about it, breastfeeding is the beginning of the story — before school dinners, before sugar. It's something that's very natural to us — it's easy, it's more convenient, it's more nutritious, it's better, it's free.
The comments struck a nerve with Adele, according to Entertainment Weekly. During a concert at London's 02 Arena, she spoke about the challenges she faced when breastfeeding her son:
It's f*cking ridiculous, and all those people who put pressure on us, you can go f*ck yourselves, all right? Because it's hard. Some of us can't do it. I managed about nine weeks with my boobs.
Breastfeeding is often a challenge for new moms. Of infants born in 2011, 79 percent started their lives breastfeeding but, according to the Centers for Disease Control and Prevention 2014 Breastfeeding Report Card, only 27 percent were still breastfeeding a year later. During her concert, Adele shared the frustration mothers often feel when they can't feed babies without formula:
All I wanted to do was breastfeed and then I couldn't and then I felt like, 'If I was in the jungle now back in the day, my kid would be dead because my milk's gone.'
Adele is mom to 3-year-old Angelo James Konecki. Though she's had an incredible year following the release of her album 25, she has still made it clear that her son is at the center of her life. In February, she made headlines for taking Angelo to Disneyland; according to Good Housekeeping, he rocked an Anna frock from Frozen. Though Adele wants privacy for her family, she told NPR that she's spent a lot more time talking about her son during interviews than she ever expected to:
But it's the biggest part of my life, so it's impossible for me to talk about my life without talking about him. The love I feel for him is so poignant and overwhelming. It takes my breath away that I am able to love someone that much, and that's what I've been looking for my whole life. I have it in my partner, and I'm lucky for that. But I'm going to be a mom forever, no matter what happens, and that love is always going to be there.
Now, Adele seems to be emerging as an advocate for moms everywhere.