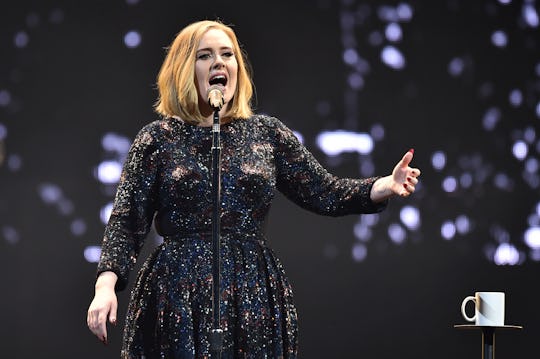 Gareth Cattermole/Getty Images Entertainment/Getty Images
Adele Tears Up At Concert Because Her Son Is Watching & Reminds Us She's Human
Adele is basically superwoman. Between being a doting mother to being a Grammy- and Academy Award-winning singer, there is basically nothing she can't do. But, even superwoman has her "weaknesses" — especially when their children are involved. This video where Adele tears up at a concert because her son is watching reminds us that she's human — just like the rest of us, and it's a beautiful reminder of the power motherhood brings to any ocassion, even when you're performing in front of thousands of adoring fans.
In addition to being one of the world's biggest recording artists (if not the biggest), Adele is also a mother to 3-year-old son Angelo with partner Simon Konecki. She is currently on tour all across the United Kingdom and Europe, and will soon come state-side in July. At one of these recent shows at the O2 Arena in London, Adele had a very important special guest in attendance — her son.
"This is the first show my baby boy has seen me do," Adele told the crowd of the arena.
Adele then launched into everyone's favorite heartbreaking song to do at a karaoke bar, "Someone Like You," where she paused in the middle of the song to say hello to Simon.
In a video captured by Twitter user and concert attendee @lostlivvy, you hear the singer calling out to him.
"I love you so much peanut," Adele says into the microphone before turning away from the microphone. You can hear the pride in her voice in a tone that is so devastating it makes you want to cry just like Adele.
The tears must of inspired Adele to have her fans help her sing the song, turning the microphone onto the crowd where they tried their hardest to channel their inner Adele.
This video is so heartbreaking for a good reason. Not only does it show that Adele is human, it shows that she is proud of her son and herself. To her fans, we see Adele as a singer-songwriter with an amazing voice and a soundtrack to our lives. To her son, she is just his mom who cares for and loves him each and every day.
Could you imagine being so proud to show someone how many lives you've touched? It's definitely a tear producing moment, especially since this is the first time Angelo has seen his mom play to such a huge crowd.
Despite the show being Angelo's first, it definitely was not the first time he has heard his mom sing. Adele recently told BBC Radio host, Chris Evans, that she sings to her son, but not her own songs, preferring more traditional songs instead.
"He doesn't really like my music. So, 'Twinkle, Twinkle," "Row, Row, Row Your Boat," and "Peppa Pig."
However, I think after this concert, Angelo will definitely have his mind changed on his mom's songs.