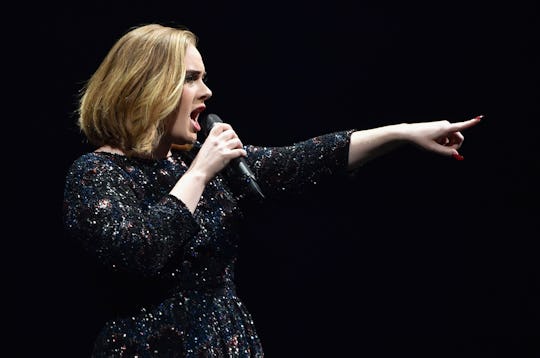 Gareth Cattermole/Getty Images Entertainment/Getty Images
Adele Will Release A New Video, & Fans Cannot Contain Themselves
Adele is always pulling on her fans' heartstrings. Today, she's doing a particularly good job. Why? She posted a new Instagram video that says, "coming soon," and, in it, she's looking stoic and beautiful in a stunning floral gown. In the background the song "Send My Love (To Your New Lover)" is playing, then the screen fades to black and says, "Premieres May 22." It's not much to go on, but it's clear that Adele will release a new video for "Send My Love," which is enough to send any fan into freak-out mode.
According to Rolling Stone, she's going to release the new song on the internet and she's going to premier it at one of the biggest nights in music: the Billboard Music Awards. The venue is very fitting, given that Adele's latest album, 25, went unchallenged as the number one release on the Billboard 200 for ten straight weeks. This will be the third single off that album, following the the chart-topping, heart-stopping "Hello" and "When We Were Young." But, of those songs, only "Hello" had a video accompaniment. Given the time, care, and deliberation that goes into anything Adele releases, this next video is sure to be incredible.
Plus, the production has an all-star team behind it. According to US Weekly, the video was shot in London and was directed by Patrick Daughters, who has collaborated with the Yeah Yeah Yeahs, Feist, Kings of Leon, and Snow Patrol. The song itself has some impressive lineage, too. It was written by Max Martin and Shellback (Karl Johan Schuster), who are best known for writing Taylor Swift's "We Are Never Getting Back Together," "Bad Blood," and "I Knew You Were Trouble." They also co-wrote Justin Timberlake's new "Can't Stop the Feeling!" So, clearly they know a thing or two about writing hit songs.
During an iHeartRadio release event, Adele said, "I heard 'Trouble' by Taylor Swift and was like, 'WHO wrote that?!'" She went on to say that the song, despite the dark look to the video teaser, is a "happy" one. It's an anthem for getting over an ex.
Adele is currently playing sold-out shows for the European leg of her 25 tour. That wraps up on June 15, and on July 5 she begins her North American tour. So despite the big release, she won't be able to attend the Billboard Music Awards, but that doesn't mean it won't be worth it to tune in. Besides getting the first glimpse of this new video, the awards show will include performances from Britney Spears, Justin Bieber, Rihanna, Blake Shelton, and Gwen Stefani. It will be aired on ABC at 8 p.m. ET, May 22.