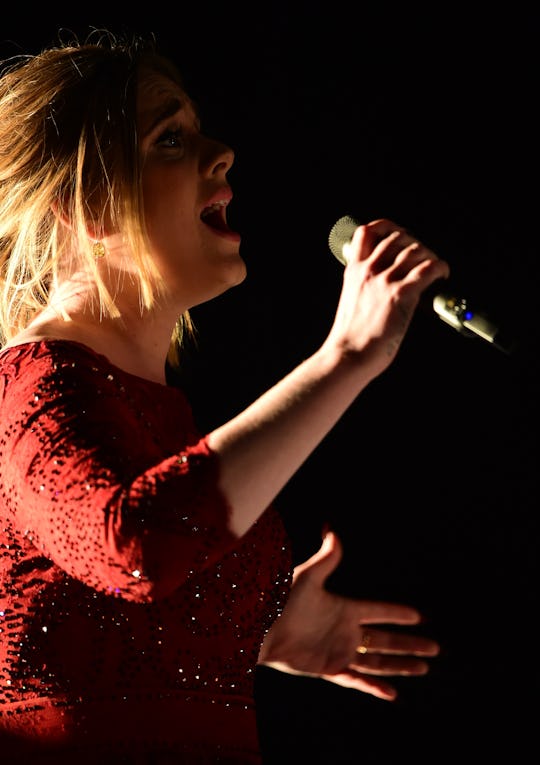 ROBYN BECK/Getty Images
Adele's 2016 Grammys Performance Was Worth The Wait
So worth the wait: Four years after Adele's Grammys performance of "Rolling in the Deep" blew viewers away and solidified fans' universal infatuation with the British songstress, she triumphantly returned to the Staples Center stage for "All I Ask." With it, Adele proved that still has it — even the sound people couldn't keep it together in the beginning, when her mic temporarily dropped.
The performance also all but confirmed that fans will see Adele back on stage next year, when she will likely accept a slew of awards for her album 25, which just missed the cutoff date for inclusion at the 58th Grammy Awards. After 25 was released in October and quickly smashed huge music sales records, it was disappointing to learn the songs on it couldn't be nominated for any Grammys until next year. Thankfully, the wise folks behind the show recognized fans' collective desire to see Adele back on stage and managed to book her.
For the big gig, Adele opted to introduce her live version of "All I Ask" to the viewing audience, which demonstrated that 25 has a lot more to offer than "Hello." (No offense to "Hello." I've easily heard the song 1,000 times and still can't help belting it out.) The song was appropriately introduced by Bruno Mars, who co-wrote "All I Ask" with Adele.
Between Adele's showmanship and irreproachable vocals, there's little doubt it will be remembered as one of the best Grammys performances, even with that sound drop.
A lucky few had the chance to listen to "All I Ask" live before, during Adele's select few performances since 25's release. But the best news of all is that Adele's Grammys performance was just a taste of what is to come for millions of fans who were lucky enough to snag tickets to Adele's global tour before they all sold out. According to her website, the Adele Live tour kicks off later this month in Belfast, Ireland, before coming to North America in July.
Adele, all we ask of you is to please return to the Grammys every year forever — and maybe dish out a few thousand more of those world tour tickets.