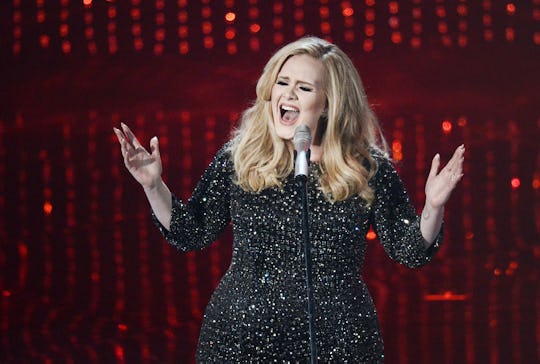 Kevin Winter/Getty Images
Adele's '25' Album Sales In The First Week Alone Blow *NSync (& Others) Right Out Of The Water
Since its much anticipated release last Friday, Adele's 25 has broken almost every sales record imaginable. And now Billboard reports that 25 has sold at least 2.433 million copies to date — and it hasn't even been a full week yet. In fact, the numbers are so amazing, that they mean Adele's 25 has surpassed *NSYNC's No Strings Attached — the previous record-holding album, which sold 2.416 copies in its first week. But hey, that was back March 2000, so maybe it's about time. And who's more worthy to steal the honor away from JT and crew than Miss. A?
"Hello" was Adele's first single in three years, and the lesson here seems to be make 'em wait. "Hello" was the first song to sell at least 1 million downloads in a week, and the video broke Taylor Swift's record for single-day views. According to Billboard, the single had the biggest sales week in over fifteen years and joins the illustrious company of Elton John's "Candle in the Wind" as the only other song to sell so many copies in it's first week.
Wondering who Adele left in the dust? Here's a roundup of the other top albums of the past who had an incredible first week in sales (at least since 1991 when Nielsen SoundScan started keeping track).