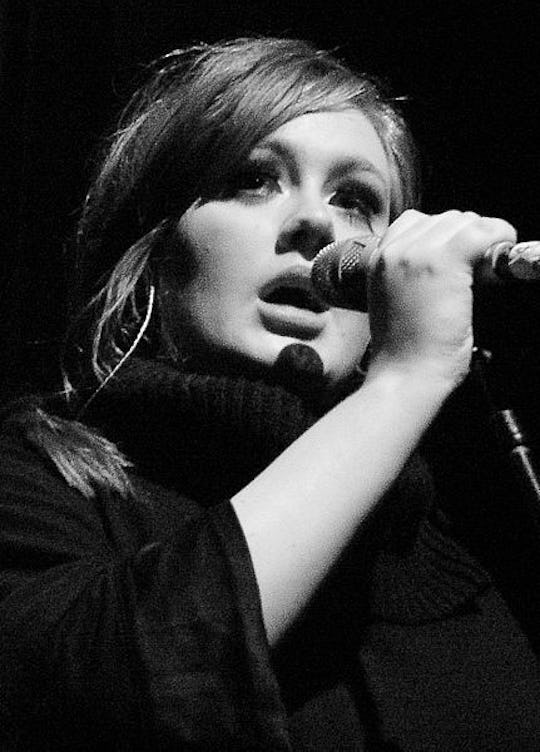 Adele's Album Sold 2.3 Million Copies & You'll Never Guess Which Band's Record She's Breaking
We knew it would be good, but no one could have guessed that Adele's album 25 would break sales records in just the three days after its release. Since Friday, the album has sold 2.3 million copies according to Nielsen Music. Do you know how many people are singing "When We Were Young" right this very minute? A lot. That's how many. David Bakula, Nielsen Entertainment's senior vice president of industry insight told The Los Angeles Times today that it was even going to surpass the champion of record sales. 'NSync. Bakula said:
It will surpass 'NSync's album today.The projections I've seen are putting it at around 2.9 million [for the first week]. This thing has as good a chance of hitting 3 million in one week as any record in history. It's incredible.
He's talking about the 2000 album "No Strings Attached" which is sort of sad if you think of it, because that was the prime of J.T.'s career and now Adele is just finally blowing them out of the water. Life goes on, right? But way back in 2000 (it almost seems like a prehistoric eta), "No Strings Attached" sold 2.4 million copies in one week. Adele's done that over the weekend.
Even Taylor Swift didn't come very close to breaking the boy band's 15 year long record. 1989 sold a ton of copies — but only capped out at 1.29 million in the first week when it came out in October 2014. The music industry (like everything else) was totally destroyed by the Internet. Or so the story goes. Maybe things are finally looking up. The fact that Adele's album is selling (that's a key word) means something must finally be clicking. So, 'Nsync, we're finally ready to let you go. You had your turn. Now it's all about Adele. Don't be sad, boys.
Image: Jason Merritt/Getty